JSX-1000S X-ray fluorescence spectrometer (XRF)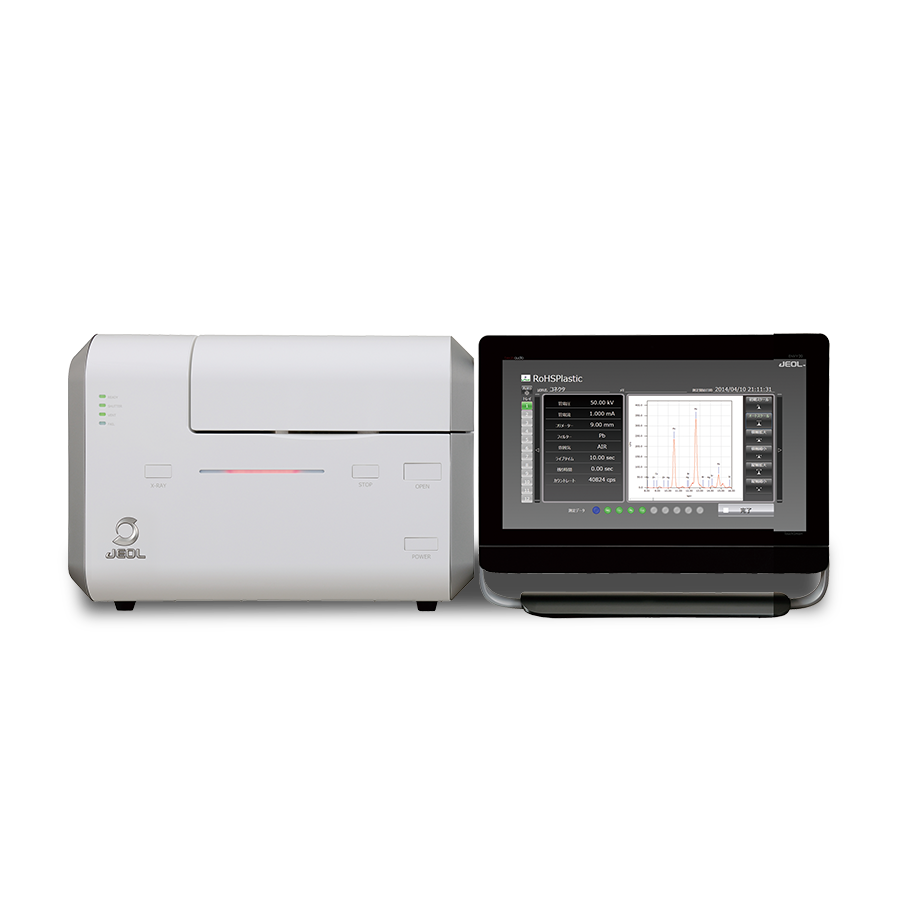 The JSX-1000S is an X-ray fluorescence spectrometer that provides quick, easy elemental analysis using touch screen operation. It is equipped with functions for conventional qualitative and quantitative analysis (FP method, calibration curve method), as well as screening for RoHS elements. With a variety of both hardware and software options available, it is customizable to cover a wide range of analysis needs.


Features
JSX-1000S in motion
Click the "replay" button in the box above, and the movie will start(for 4 minutes)
Simple Operation
Simply set the sample and touch the screen; that's how easy it is to operate. Another touch of the screen is all it takes to switch between analysis results and spectrum display. It is as easy to operate as a tablet PC or a smart phone. (Operation using a keyboard and a mouse is also supported.)
Set & Touch simple operation
A simple, intuitive operation GUI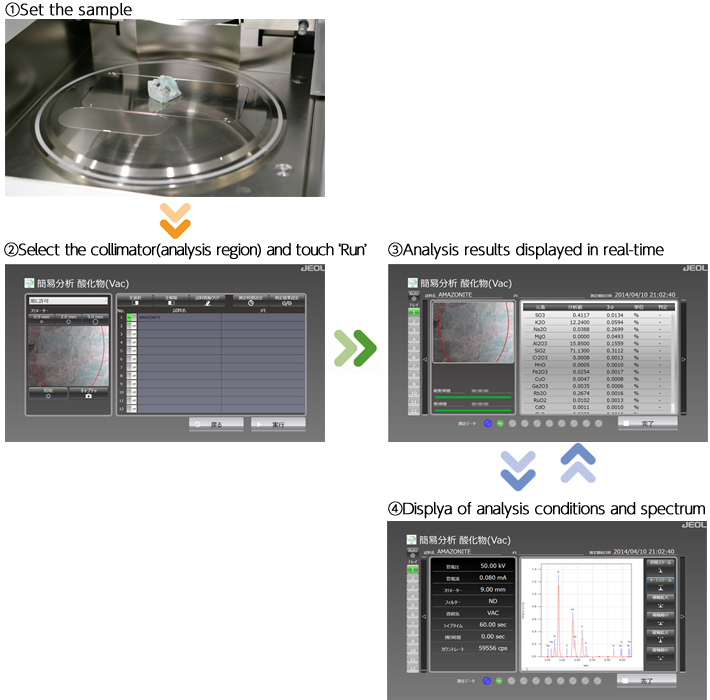 High Sensitivity & High Throughput
JEOL's own SDD (silicon drift detector) and newly-developed optical system, in combination with filters designed to handle the entire energy range, make it possible to achieve high-sensitivity analysis.
The sample chamber vacuum unit (option) further increases detection sensitivity for lighter elements.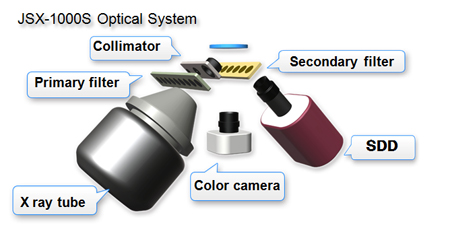 Sensitive analysis throughout the entire energy range
High-sensitivity analysis can be performed across the entire energy range using a maximum of 9 types of filters and a sample chamber vacuum unit.
Cl, Cu, Mo and Sb are options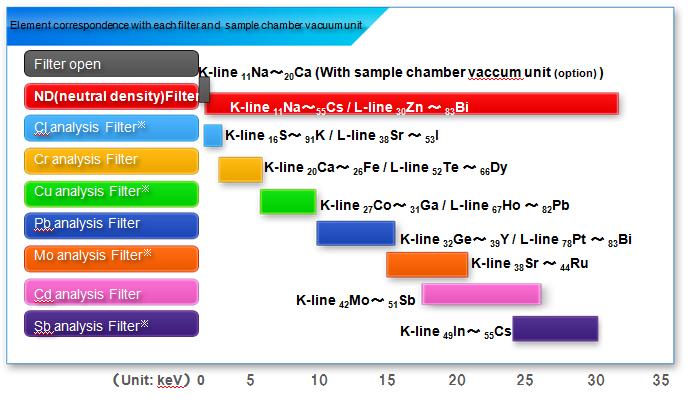 Example: trace element detection (10 ppm or less)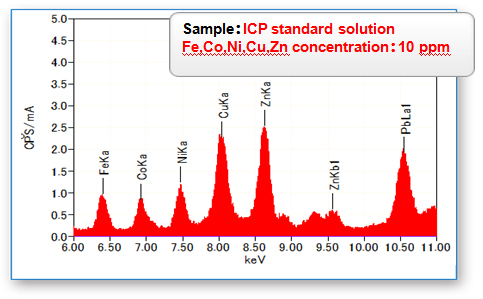 Providing Solutions
With solution based applications, the desired analysis can be executed automatically according to pre-recorded recipes. Simply select the desired solution icon from the solution application list for automated analysis and display of results. Solution applications offer simplified analysis in a wide range of fields.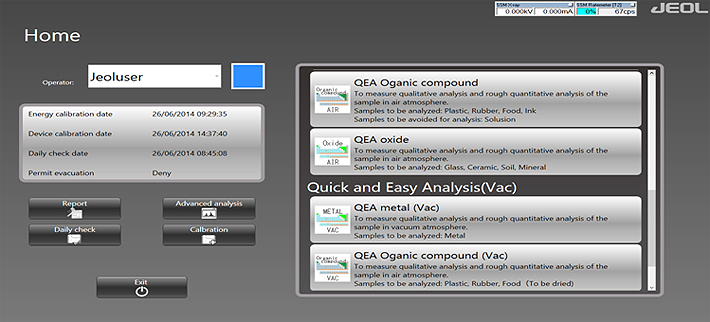 The new Smart FP (Fundamental Parameter) method makes it possible to obtain highly-accurate quantitative results without the need to prepare a standard sample, and includes automatic correction for thickness and residual ingredient balance.
(The residual balance correction and thickness correction functions are only applicable to organic samples.)
Thickness
Crrection
Cr
Zn
Cd
Pb
Automatic balance
0.5mm
No
0.008
0.037
0.001
0.002
99.76
3.8mm
0.012
0.109
0.004
0.006
99.64
0.5mm
Yes
0.011
0.137
0.015
0.010
99.54
3.8mm
0.011
0.134
0.016
0.011
99.55
Standard value
0.010
0.125
0.014
0.010
Specifications
Analysis element range
Mg to U
F to U (Option)
X-ray generator
5 to 50 kV, 1 mA
Target
Rh
Primary filter: 9 types, Automatic exchange
Standard:OPEN, ND, Cr, Pb, Cd
Option:Cl, Cu, Mo, Sb
Collimator: 3 types, Automatic exchange
0.9mm, 2mm, 9mm
Detector
Silicon drift detector (SDD)
Specimen chamber size
300mm(D)×80mm(H)
Specimen chamber atmosphere
AIR / VAC (Option)
Chamber observation mechanism
Color camera
Operation computer
Windows ® Desktop PC with touch panel
Analysis software (Standard)
Qualitative analysis (Automatic, KLM marker, Sum peak display, Spectrum search)
Quantitative analysis (Bulk FP method, Calibration curve method)
RoHS analysis solution (Cd, Pb,Cr, Br, Hg)
Simplified analysis solution
Report creation software
Software for daily check (Standard)
Tube bulb aging, Energy check, Intensity check
Windows® is either registered trademarks or trademarks of Microsoft Corporation in the United States and/or other countries.
Major options
SAMPLE CHAMBER VACCUM UNIT
AUTO SAMPLE CHANGER
FILTER SET
FILTER FP METHOD ANALYSIS SOFTWARE
THIN FILM FP METHOD ANALYSIS SOFTWARE
SUM PEAK REMOVAL SOFTWARE
Ni plating screening solution
Sn plating screening solution
Halogen screening solution
Related information
Helium-free light elements analysis is achieved in liquid!Low Vacuum Capsule for analyzing liquid samples
Application
Application JSX-1000S
Film Thickness by Thin Film FP Method
Quantitative and Qualitative Analysis of Inorganic Elements in Plastic by FP Method
Quantitative Analysis of Oxides using the FP Method
Qualitative and Quantitative Analysis of Metal Alloys by FP Method
Analysis with separation of As and Pb in Iron and Steel is possible.
Analysis of Cracks in Brass Piping Parts
Test /Analysis of Foreign Substances on Resin surface by X-ray analysis
Gallery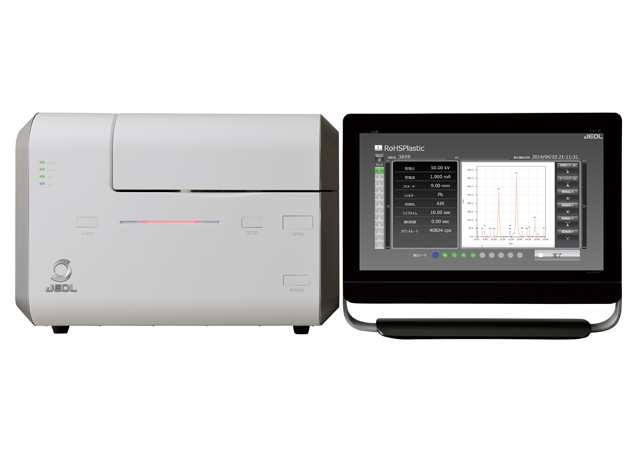 More Info


Are you a medical professional or personnel engaged in medical care?
Please be reminded that these pages are not intended to provide the general public with information about the products.