JEM-ACE200F High Throughput Analytical Electron Microscope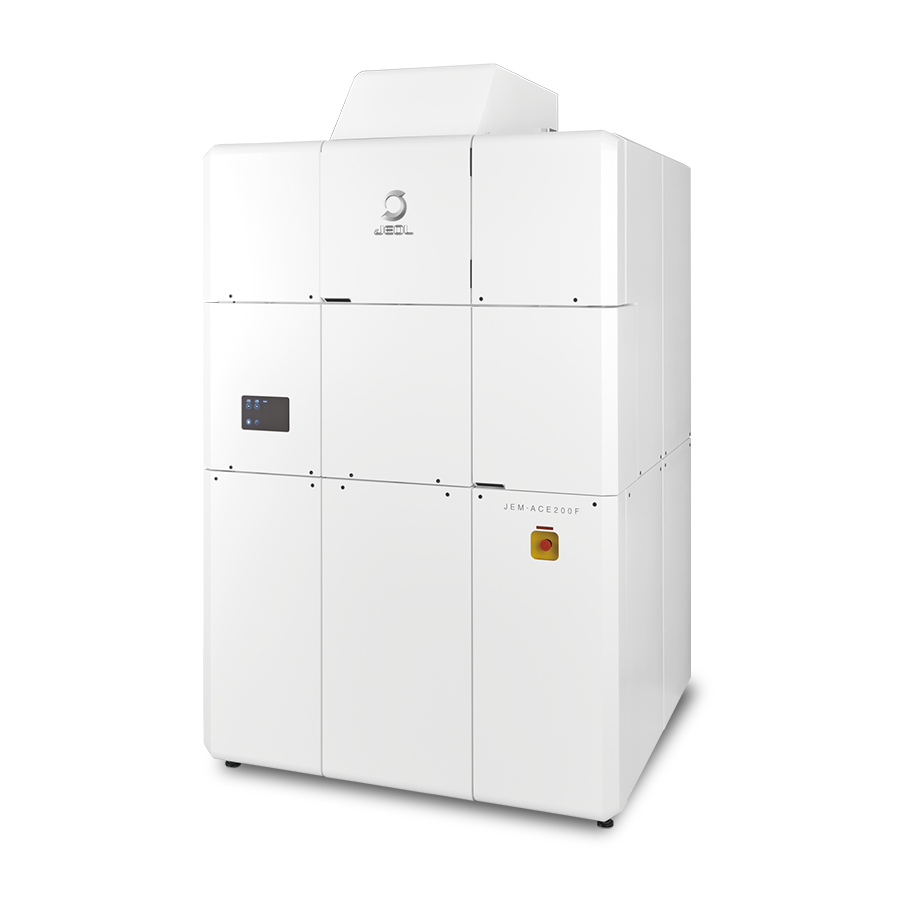 The JEM-ACE200F is an electron microscope responding to the system allowing for an operator to obtain data without operating the electron microscope by creating recipes for operation workflow.
Since the JEM-ACE200F inherits hardware technologies of the JEM-ARM200F high-end TEM and the JEM-F200 multi-purpose FE-TEM, this new high throughput analytical electron microscope provides superbly high stability and analytical capabilities with a renewed sophisticated exterior design.
Features
Basic Unit platform
Cold-FEG is standard.

Installation of Cs corrector is possible.

High speed and high sensitivity stage. Three times faster than the existing motor drive and fine movement control similar to the piezo drive control is available.
Easy Operation
Intuitive operation is available even for inexperienced operator of TEM

Minimizes the operations that are using the operation panel and the final image can be obtained while clicking the buttons on the screen in order.
Focus adjustment can be performed by mouse operation.

Integration with Gatan camera is possible.

Automatic microscope tuning functions

Autofocus, automatic astigmatism, automatic specimen height adjustment, automatic beam centering, and automatic orientation, etc.
Automatic data acquisition function
The recipe software "Automation Center" enable automatic data acquisition

TEM image, STEM image, elemental mapping by EDS.
Several specimens on a grid can be handled.
Linkage with critical dimension measurement software
Magnification calibration is available for each magnification set on the TEM side.

Automatic critical dimension measurement is available for data acquired by more than one JEM-ACE200F.
Remote operation
Next room operation
Remote operation and simultaneous observation at more than one location (subject to network environment)

Enables observation while discussing with multiple business locations.
Improvement of environmental resistance by column enclosure
Contributes to controlling the impact from changes of noise, air flow, and room temperature.

Further soundproofing measures are possible by attaching acoustic material to the interior walls.
From Analysis instruments to Analysis tool
- Automated STEM/TEM analysis will help improve processes and stably help improve quality control -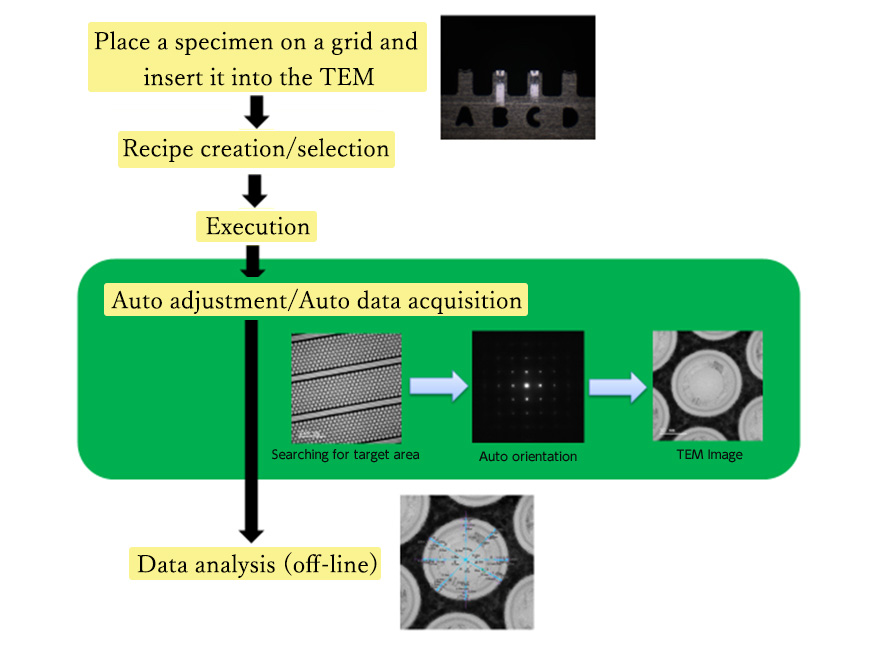 Specifications
TEM resolution(at 200kV)
Particle image   ≤0.21nm
Lattice image    0.1nm
Information limit  ≤0.11nm
STEM resolution (at 200kV)
DF STEM image ≤0.136nm  ASCOR configuration (option) ≤0.1nm
BF STEM image ≤0.136nm  ASCOR configuration (option) ≤0.1nm
Electron gun
Cold field emission gun (CFEG)
Accelerating voltage
60kV to 200kV
(80 kV, 200 kV; standard, Other voltages: option)
Specimen movements
X,Y ±1.0mm  Z ±0.2mm
Specimen tilt angle
TX/TY (dual-axis specimen tilting holder)   ±20°/±25°
TX (Dedicated specimen high tilting holder)    ±80°
Options
JEOL 100mm2 SDD(Dual), EELS, Cs corrector, Automation Center, Tomography
Application
Application JEM-ACE200F
More Info


Are you a medical professional or personnel engaged in medical care?
Please be reminded that these pages are not intended to provide the general public with information about the products.