JAMP-9510F Field Emission Auger Microprobe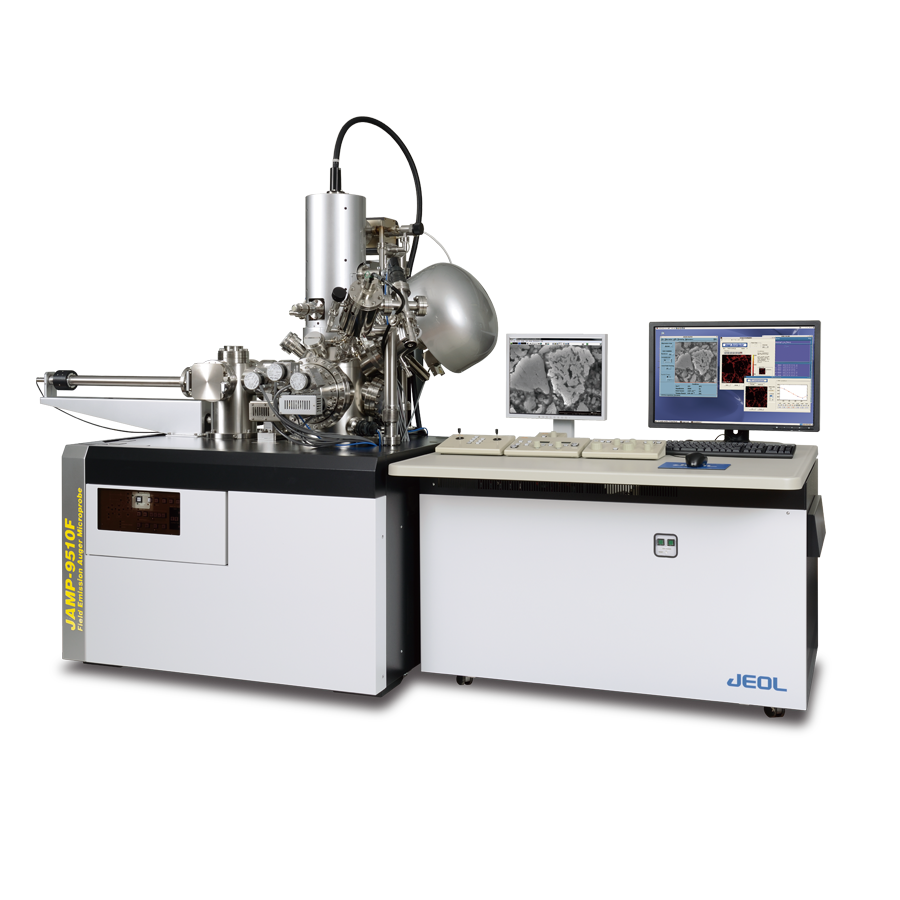 It is a high specification Auger electron spectrometer with a hemispherical analyzer to provide high throughput analysis of the chemical bonding state at nano to micro areas, and a field emission electron gun also used for EPMA, because it can deliver a large, stable electric current The highly precise eucentric specimen stage makes it possible to perform the previously-impossible analysis of insulators. This in combination with the floating type ion gun offers the versatility to handle any specimen, such as metals and insulation materials, to obtain composition information to and chemical information.
Features
High-sensitivity・high-resolution analyzer
Employing analyzers with variable energy resolution has made it possible to perform chemical bonding state analysis in a high-resolution mode, as well as high-speed mapping in a high-sensitivity mode.
Schottky Field Emission Electron Gun
An electron gun that achieves both image observation with 3nm spatial resolution, as well as high-throughput chemical bonding state analysis as a result of the large electric current of up to 200nA. This is possible by incorporating the electron optics technology that JEOL has developed over many years with the Schottky Field Emission Electron Guns employed in SEMs and EMPAs.
Eucentric Specimen Stage
The adoption of an eucentric stage, a necessity for an analysis device with multiple optics systems, provides highly accurate height center reproducibility. Freely-selectable tilting up to 90°makes difficult analysis of insulators possible.
Durability
Based on a long-life design concept, the running costs associated with the replacement of the ion gun filament and electron gun emitter have been reduced.
Software
Separation of overlapped Auger peaks, which aggravate analysts, as well as complicated chemical bonding state analysis can be performed with one click using the waveform separation function.
Map restructuring software enables a wide range of analyses, such as re-setting of P/B after measurement, and tracking the changes over time during integration.
Specifications
Electron illumination system
SEI resolution
3nm(at 25kV, 10pA)
Probe diameter for Auger analysis
8nm(at 25kV, 1nA)
Electron gun
Schottky field emission gun
Accelerating voltage
0.5 to 30kV
Probe current
10

-11

to 2×10

-7

A
Magnification
x 25 to 500,000
Auger analysis system
Analyzer
Electrostatic hemispherical analyzer (HSA)
Energy resolution(ΔE/E)
0.05 to 0.6%
Sensitivity
840,000 cps/7 ch or more
(at 10 kV 10 nA Cu-LMN, 0.6% resolution, 60tilt)
Detection system
Multi-channel detection
Ion gun
Ion energy
0.01 to 4keV
Ion current (absorbed current)
2 A or more at 3,000 eV, 0.03A or more at 10 eV
Neutralization function
Built-in
Specimen stage
Specimen movement
X: ±10 mm, Y: ±10 mm, Z: ±6 mm,
T (tilt): 0 to 90, R (rotation): 360(endless)
Specimen size
20 mm in diameter (5 mm thick)
UHV evacuation system
Ultimate pressure in specimen chamber
5×10

-8

Pa or less
Baking out
Built-in heater, automatic baking out
Software
Data acquisition
Spectrum,
Depth profile,
Line profile,
Auger image,
SEI (secondary electron image)
Wide area image analysis (optional),
Scheduling analysis (optional)
Data processing
Qualitative analysis,
Quantitative analysis,
Differentiation,
Smoothing,
Image processing,
Text entering,
Peak deconvolution software (optional)
Specifications subject to change without notice.
Expandability
Additional ports to accommodate the following attachments are pro-vided, supporting a variety of analyses.
Specimen Parking Unit
Specimen Cooling and Fracturing Device
Backscattered Electron Detector
Energy Dispersive X-ray Spectrometer (EDS)
Electron Backscatter Difraction Unit (EBSD)
Transfer Vessel
Catalogue Download
JAMP-9510F Field Emission Auger Microprobe
Application
Application JAMP-9510F
More Info


Are you a medical professional or personnel engaged in medical care?
Please be reminded that these pages are not intended to provide the general public with information about the products.