Lithium Ion Battery Note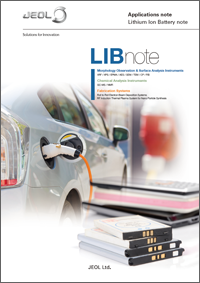 The applications for lithium ion batteries (LIB) cover a wide range, from power sources for personal computers and mobile devices to automobiles, and there is always a demand for even better performance and safety.  To ensure the performance and quality of LIB, analysis and evaluation using high-performance assessment systems is necessary.  This LIB note offers characteristic comparisons and application examples of lithium ion battery material assessment which satisfies such needs. 
Please see the PDF file for the additional information.
Another window opens when you click.


PDF 7.66MB
Related Products
Solutions by field


Are you a medical professional or personnel engaged in medical care?
Please be reminded that these pages are not intended to provide the general public with information about the products.