You can download each JEOL NEWS, in the PDF format.
When you click the front cover of the brochure you want to download, the relevant PDF document appears.
Please note that there may exist a longer downloading time of the pdf format brochure, depending on the time when many people access the Internet.
Latest Number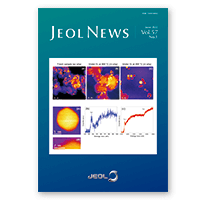 Applications
Degradation of CuPd Nanoparticles upon Redox Cycling Shown by In situ Scanning Transmission Electron Microscopy in the JEOL NEOARM
Alexandre C. Foucher1, Eric A. Stach1, 2
1Department of Materials Science and Engineering, University of Pennsylvania
2Laboratory for Research on the Structure of Matter, University of Pennsylvania
Accurate Quantification of Qn Species Distributions in Modified Silicate Glass by Phase Adjusted Spinning Sideband NMR Experiment
Lekhan Lodhi and Krishna Kishor Dey
Dr. Harisingh Gour Central University
Electron Cryomicroscopy:
Recent Progress and Future Perspective for Structural Life Sciences
Keiichi Namba1, 2 and Fumiaki Makino1, 3
1Graduate School of Frontier Biosciences, Osaka University, 2RIKEN SPring-8 Center, 3JEOL Ltd.
Chemical-State Analysis of Li Compounds and Nitrogen-Getter Material for Liquid Li by Soft X-ray Emission Spectroscopy
Keisuke Mukai1, 2, Ryo Omura1, Juro Yagi1, Ryuta Kasada3
1Institute of Advanced Energy, Kyoto University, 2Kyoto Fusioneering Ltd. 3Institute for Material Research, Tohoku University
Observation and Analysis of Micro-Textures in Mineral Samples with an Aberration Corrected STEM
Ichiro Ohnishi
EM Business Unit, JEOL Ltd.
New Semi-in-lens SEM JSM-IT800 < i >/< is > Excellent for Semiconductor Device Observation
Motohiro Nakamura and Yuhei Nakajima
EP Business Unit, JEOL Ltd.
Automated TEM lamella Preparation with JIB-4700F
Yoshitaka Ishihara, Tomohiro Mihira
EP Business Unit, JEOL Ltd.
Spectrum Imaging for Secondary Electrons and Backscattered Electrons Using Band Pass Filter with Variable Energy Resolution
Tatsuya Uchida1, Konomi Ikita1, Akihiro Tanaka1, Kazushiro Yokouchi1, Nobuyuki Ikeo1, Kenichi Tsutsumi1, Noboru Taguchi2
1JEOL Ltd. 2National Institute of Advanced Industrial Science and Technology (AIST)
Developing an Electron-Beam Metal 3D Printer JAM-5200EBM
Ayumu Miyakita
3D Additive Manufacturing Project, JEOL Ltd.
Gas Chromatograph
Quadrupole Mass Spectrometer, JMS-Q1600GC UltraQuad™ SQ-Zeta
Yoshio Abe and Masaaki Ubukata
MS Business Unit, JEOL Ltd.
Introduction of JEOL Products
JEOL NEWS Back number