JIB-PS500i FIB-SEM system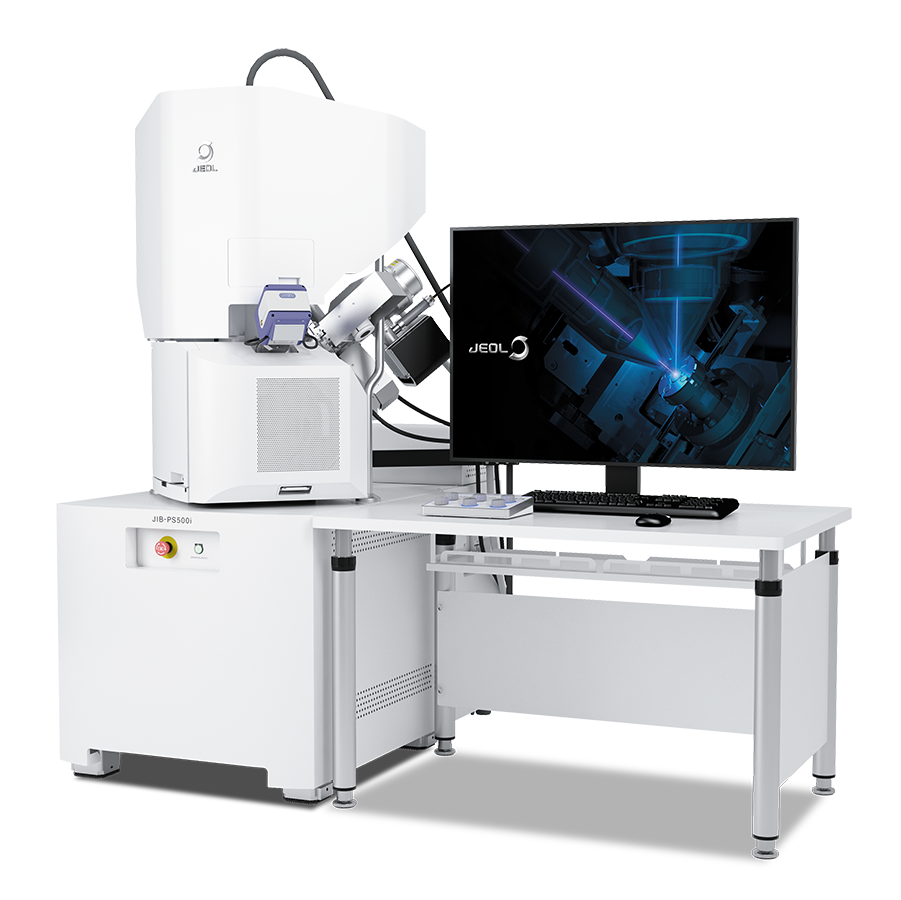 New Solutions for Specimen Preparation
The JIB-PS500i provides three solutions to assist TEM specimen preparation. High throughput workflow is assured from specimen prepartion to TEM observation.
Features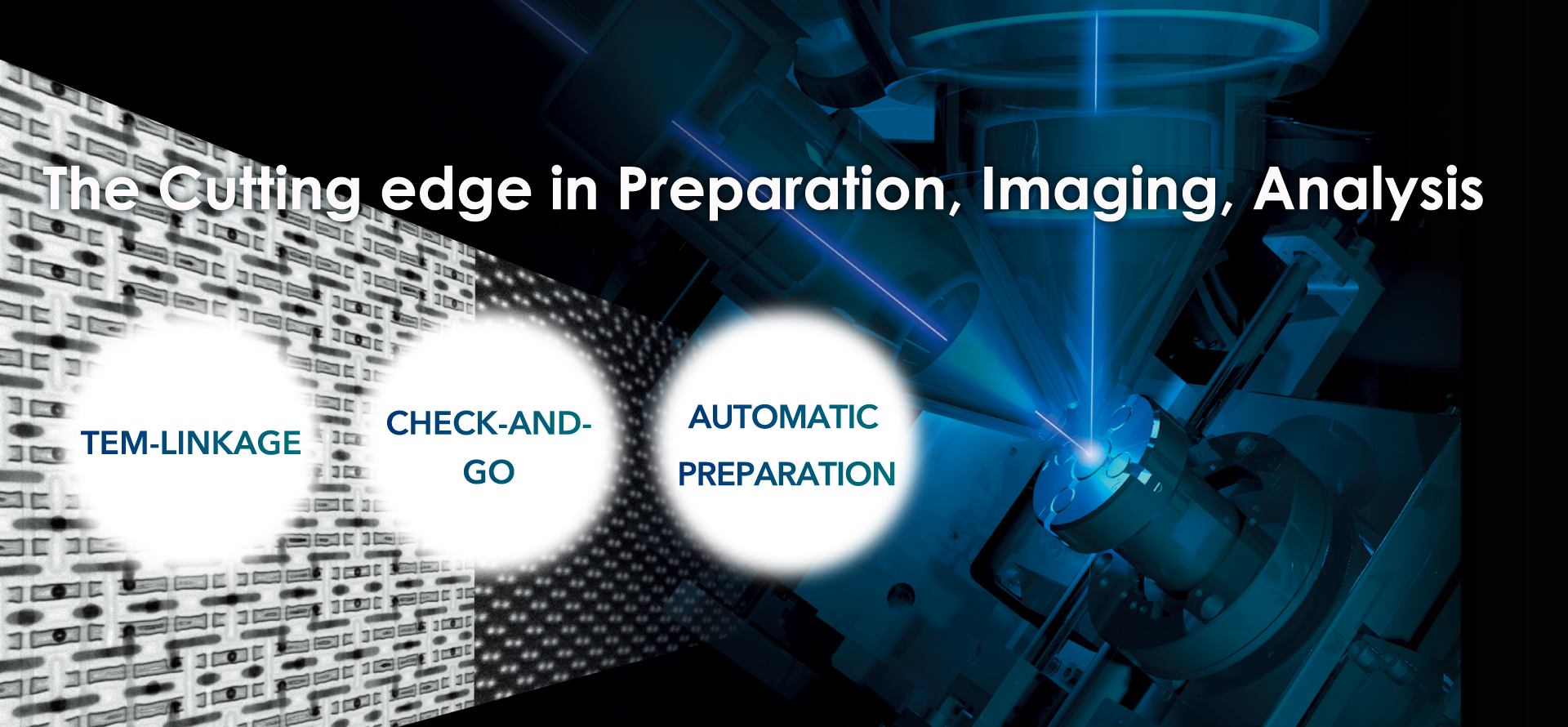 TEM-LINKAGE
The use of JEOL's double tilt cartridge and TEM holder* facilitates linkage between the TEM and the FIB. The cartridge can be attached to the dedicated TEM specimen holder with a single touch.
●Specimen transfer workflow with the double tilt cartridge*

* is optional.
●OmniProbe 400*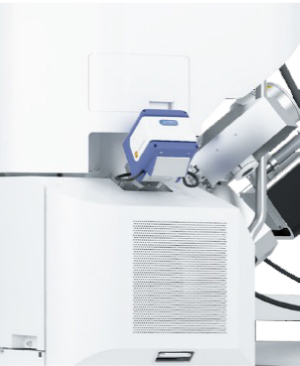 The adopted OmniProbe 400* (Oxford Instruments) enables precise and smooth pick-up operations and manipulations. The operations of the OmniProbe 400* are integrated into the software for the JIB-PS500i.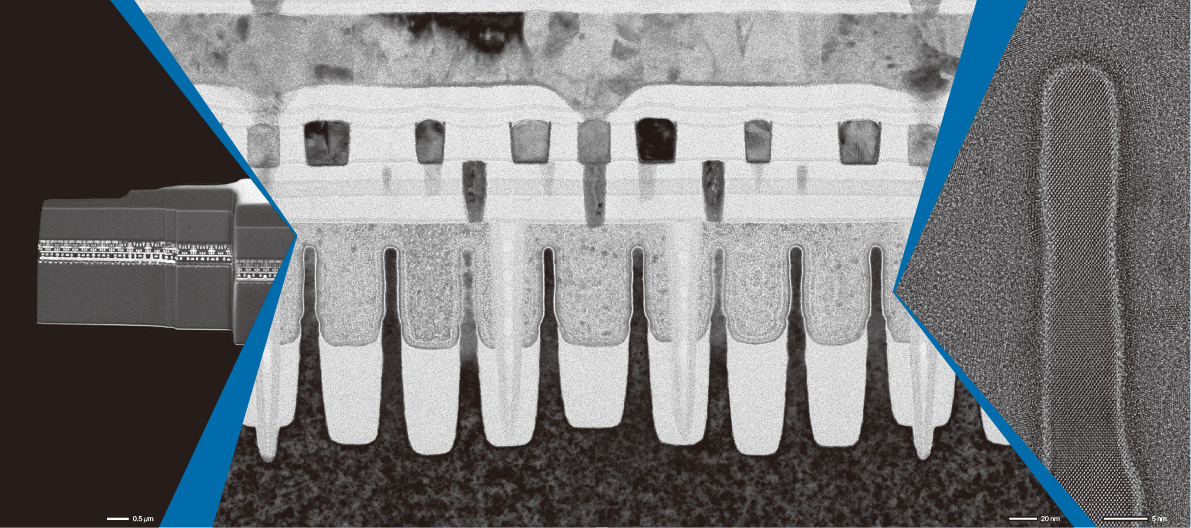 Specimen: 5 nm design rule semiconductor device (FinFET)
Observation conditions: (Left) Accelerating voltage 2 kV, Detector SED Secondary electron image,
(center and right) Accelerating voltage 200 kV, TEM image, Instrument: JEM-ARM200F
CHECK-AND-GO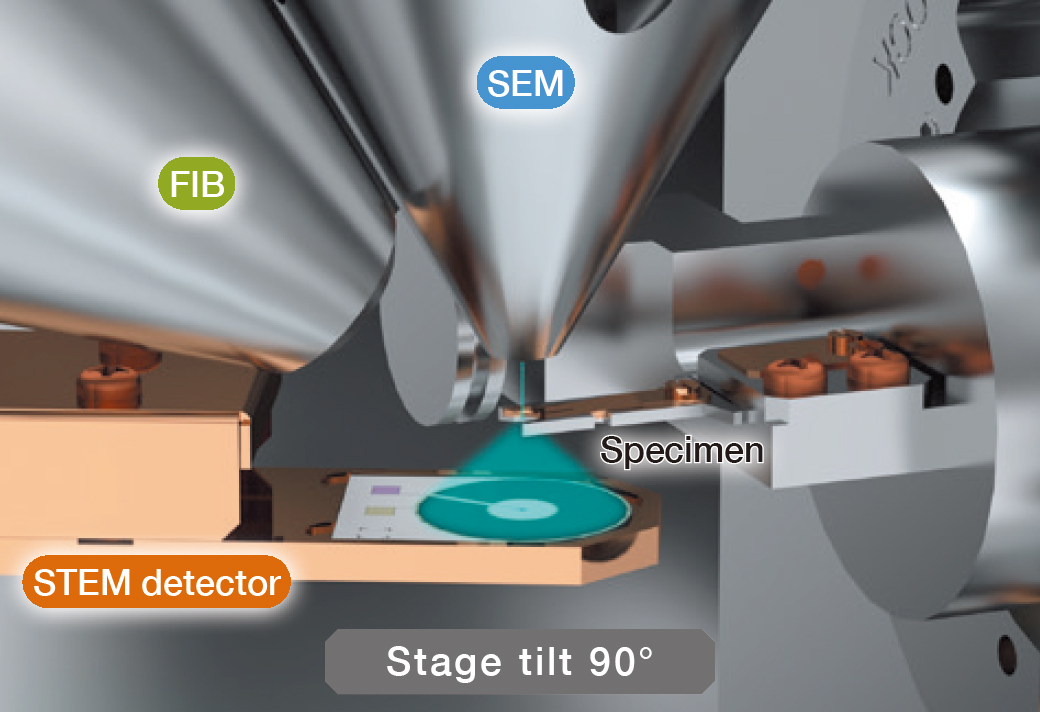 To precisely and efficiently prepare a TEM specimen, it is essential to quickly check the preparation progress. With its high-tilt stage and detector scheme, the JIB-PS500i allows for seamless transition from FIB milling to scanning transmission electron microscope (STEM) imaging. Fast transitions between lamella processing and STEM imaging lead to efficient specimen preparation.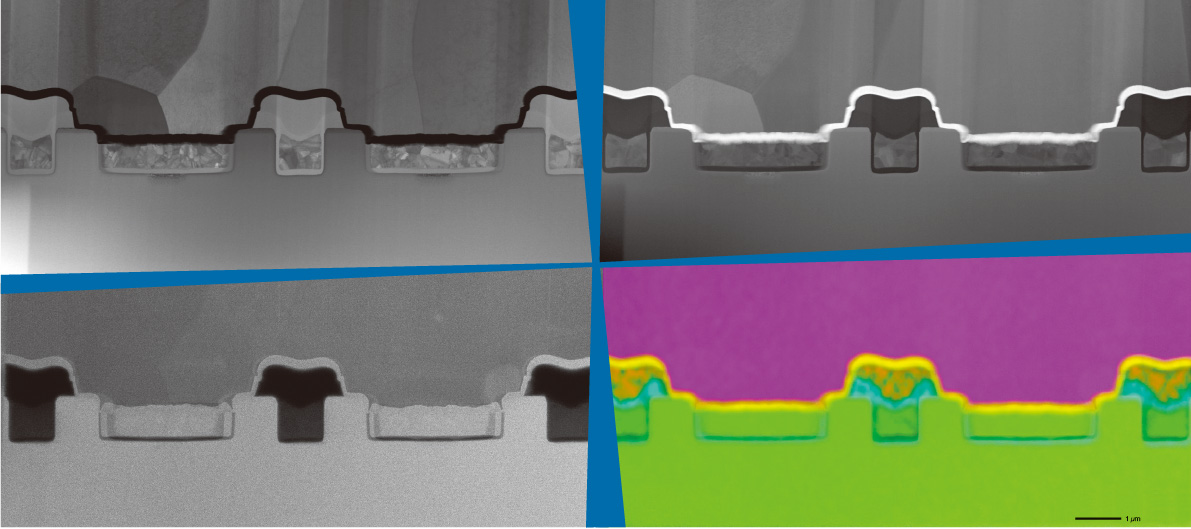 Specimen: SiC power semiconductor device Observation conditions: Accelerating voltage 30 kV,
Detector (Upper left) STEM-BF, (Upper right) STEM-DF, (Lower left) SED Secondary electron image,
(Lower right) EDS maps Purple: Al Yellow: Ti Orange: P Blue: O Green: Si
AUTOMATIC PREPARATION
The JIB-PS500i automates specimen preparation using the STEMPLING2* automatic TEM specimen preparation system. This automatic system enables any operator to smoothly prepare specimens for TEM.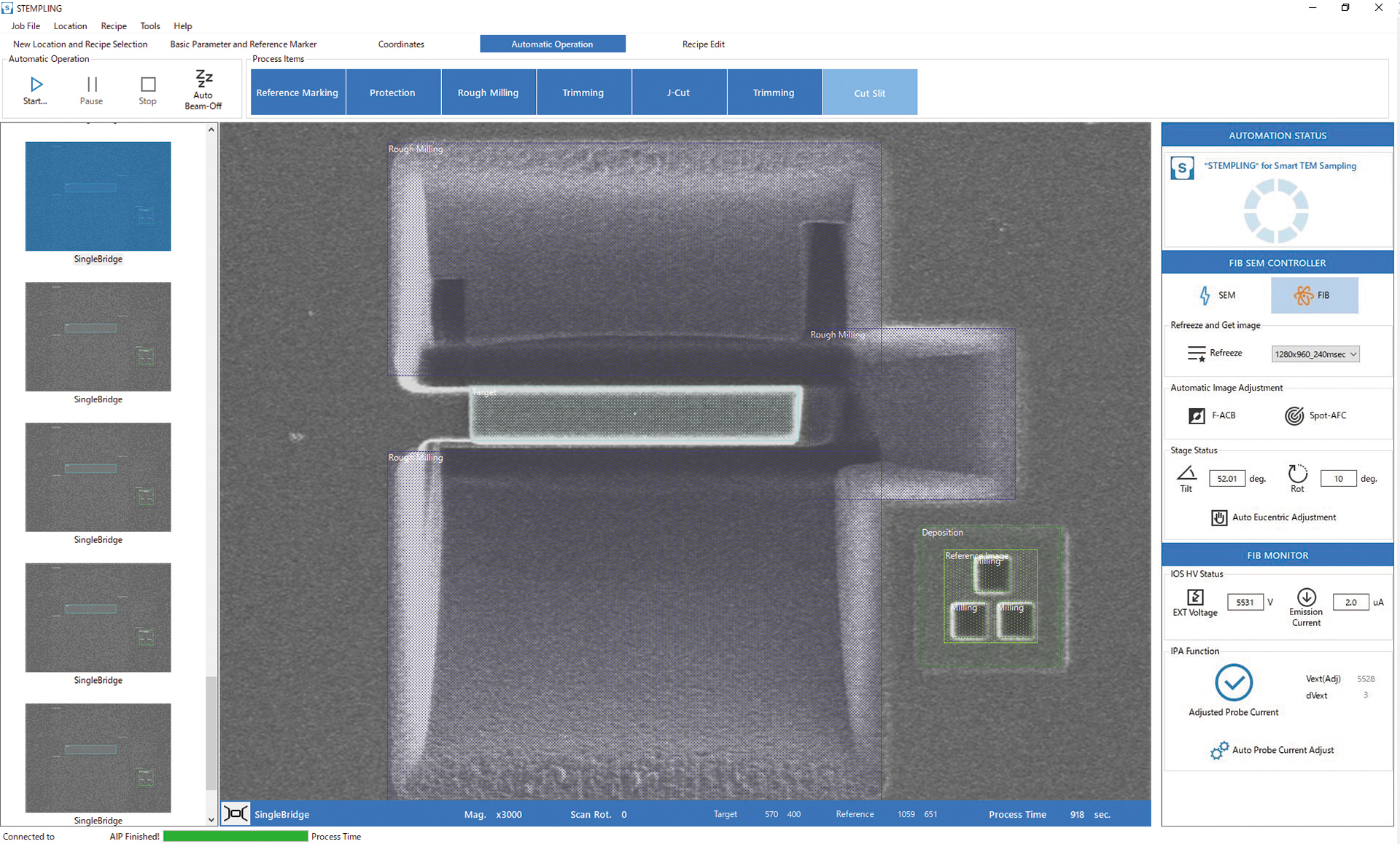 Specimen: Copper plating
(Top) Automatic preparation of specimen block, (Bottom) Thinning of specimen block by automatic processing
Observation conditions: Accelerating voltage 30 kV, Detector SED (SIM image)
HIGH-RESOLUTION & HIGH-CONTRAST SEM Imaging
Stop hesitating, stop missing the end-point in milling. High quality SEM images assist you.
Signal detection system
Multiple detectors are available, including the standard SED, UED and iBED. Selecting the optimum detector makes it possible to observe sharp images of various specimens under various experimental conditions.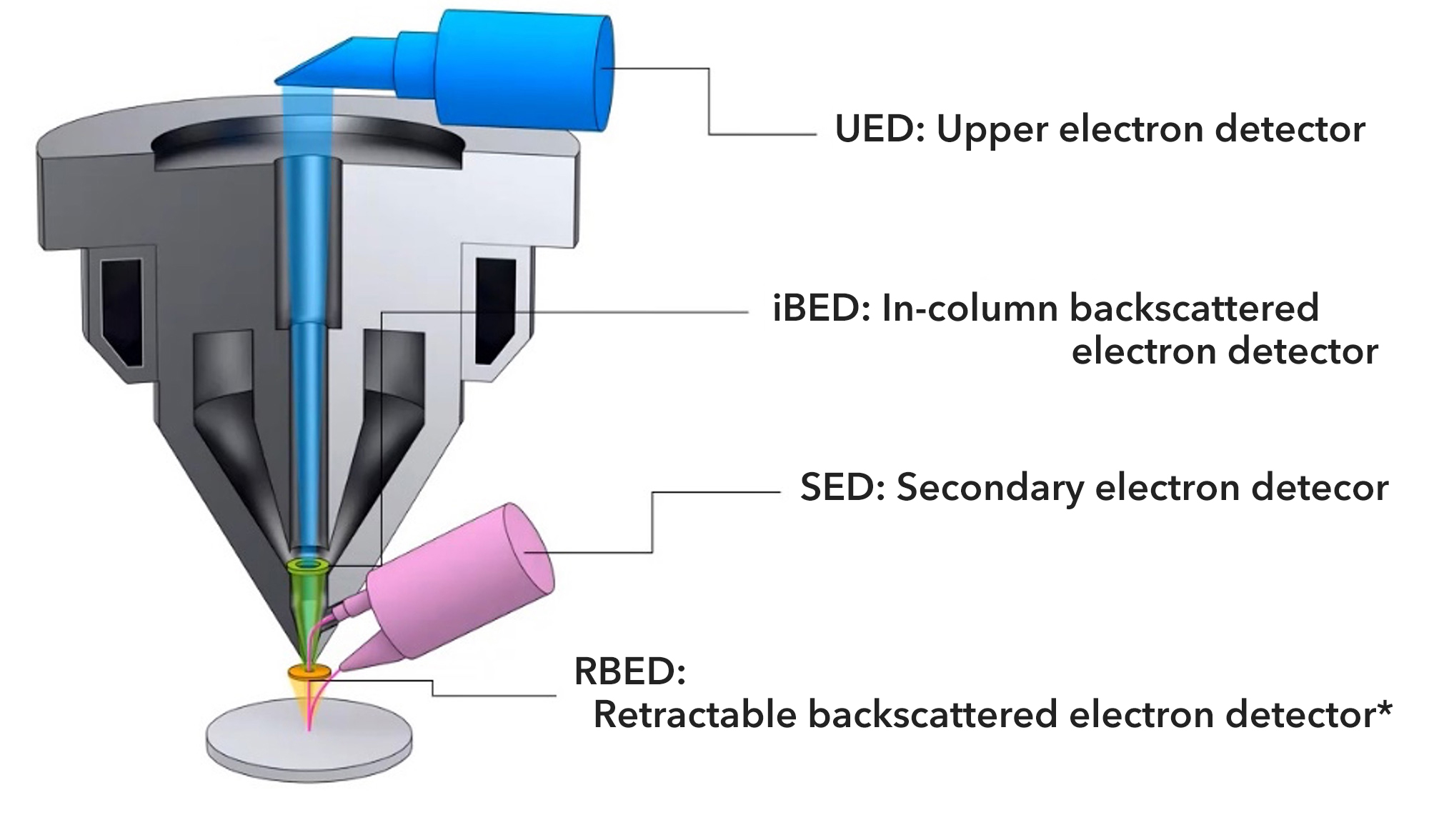 High resolution SEM imaging
A newly-developed super conical lens system is built into the SEM column, greatly improving the imaging performance at low accelerating voltage. This superb imaging is very useful to check the end-point milling status of lamela specimen using the SEM.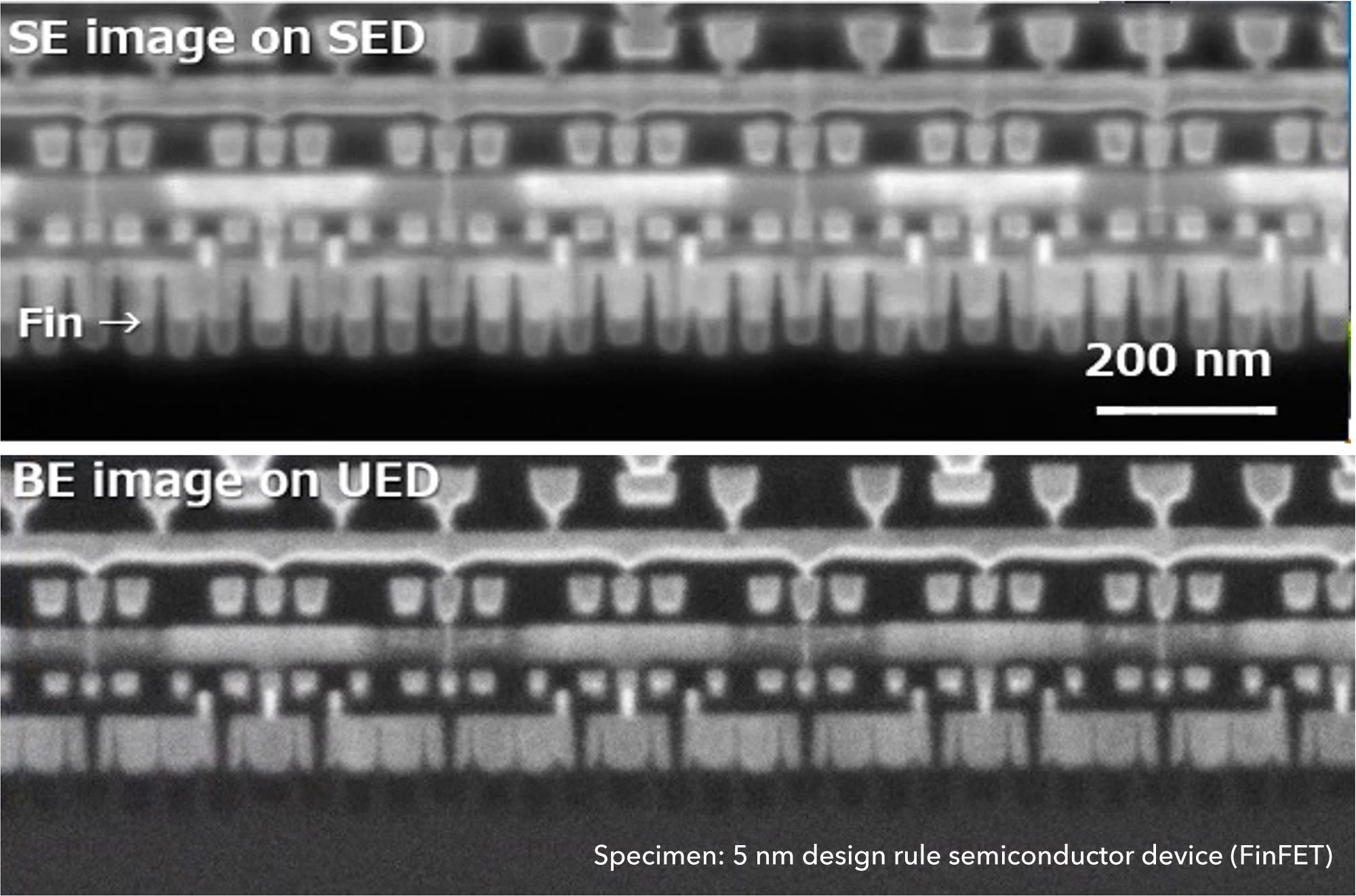 SEM imaging of FIB-prepared cross section
A very small, retractable backscattered electron detector (RBED)* can be used even with high stage tilt. For imaging of a FIB-prepared cross section, which requires both specimen surface and tilted imaging, a combination of various detectors including the SED and UED makes it suitable for cross-sectional SEM imaging.

Specimen: FIB-prepared cross section of 3D NAND flash memory device 200 nm
Observation conditions: Accelerating voltage 2 kV, Detector (Top) RBED backscattered electron image, (Left) SED secondary electron image,
(Center) RBED backscattered electron image, (Right) UED backscattered electron image
EDS integration software*
EDS analysis functions are built into the main instrument control software, thus enabling elemental analysis of the specimen without switching the software. (This is available only when the instrument is equipped with a JEOL EDS*.)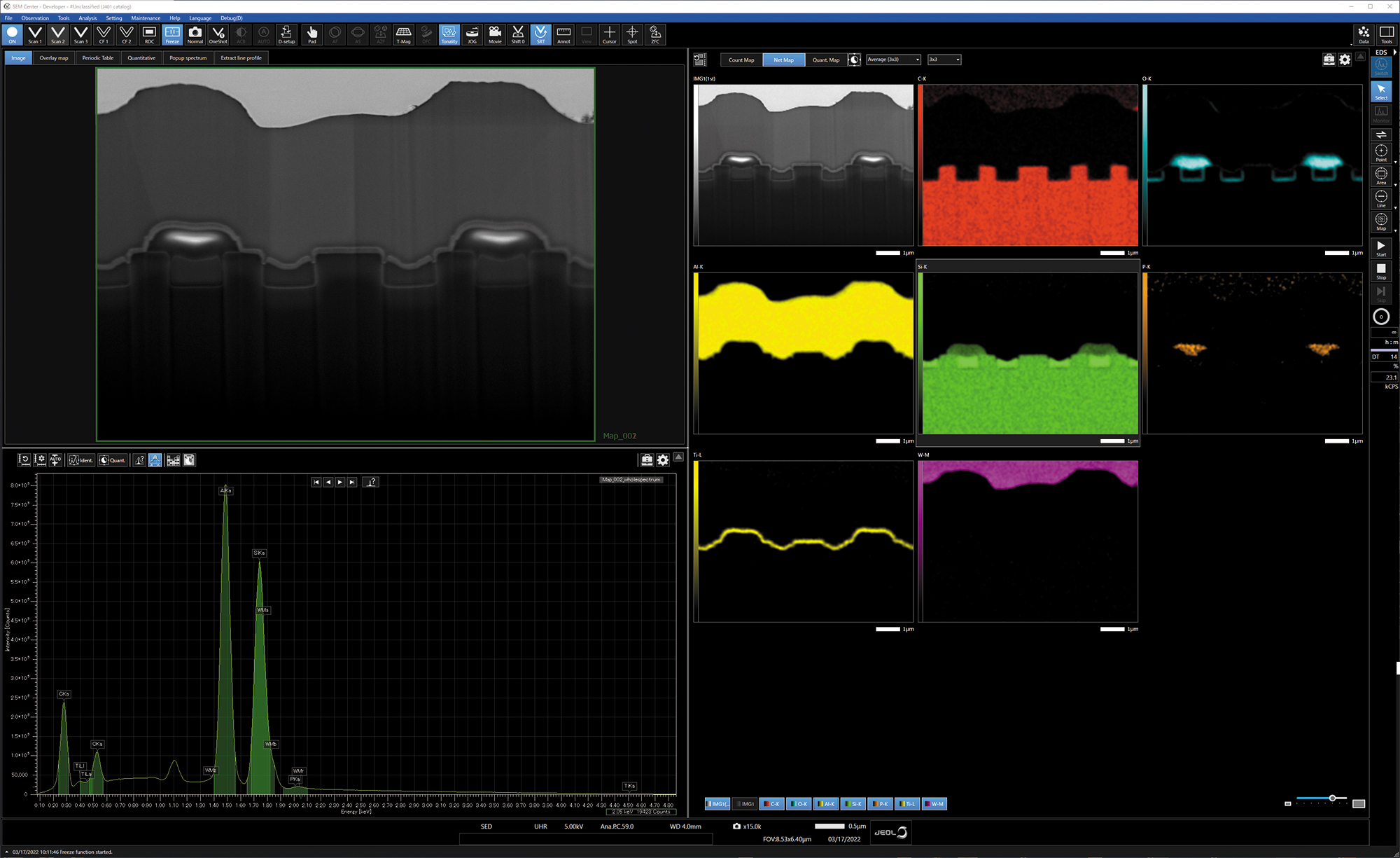 HIGH-POWER & HIGH-QUALITY FIB processing
For the best specimen preparation, More powerful FIB processing.
Large-area, Fast FIB processing
The FIB column enables processing with a large-current Ga ion beam (up to 100 nA).
This high-current processing is particularly effective for large-area imaging and analysis.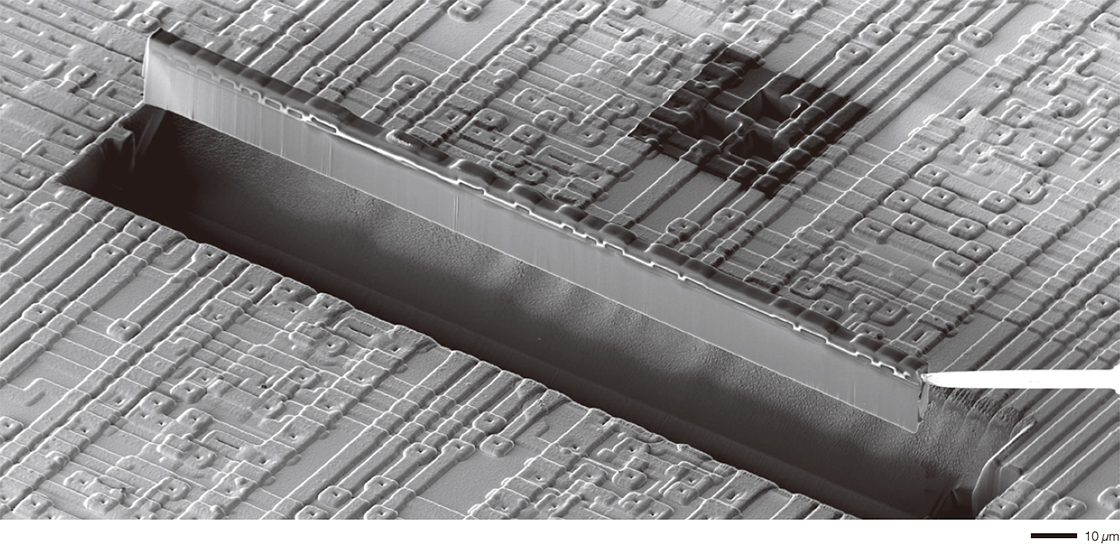 Specimen: Semiconductor device
Observation conditions: Accelerating voltage 3 kV, Detector SED Secondary electron image
Specimen block (200 × 4 × 15 μm). Specimen block picked up with OmniProbe 400*
Damage-layer removal by low-kV processing
The FIB column is set to a shorter working distance than JEOL previous models; this, in conjunction with a new power supply, has led to greatly improved processing performance at low accelerating voltages. The addition of a new control system, yields the high-performance fine milling capabilities essential for quality lamella preparation.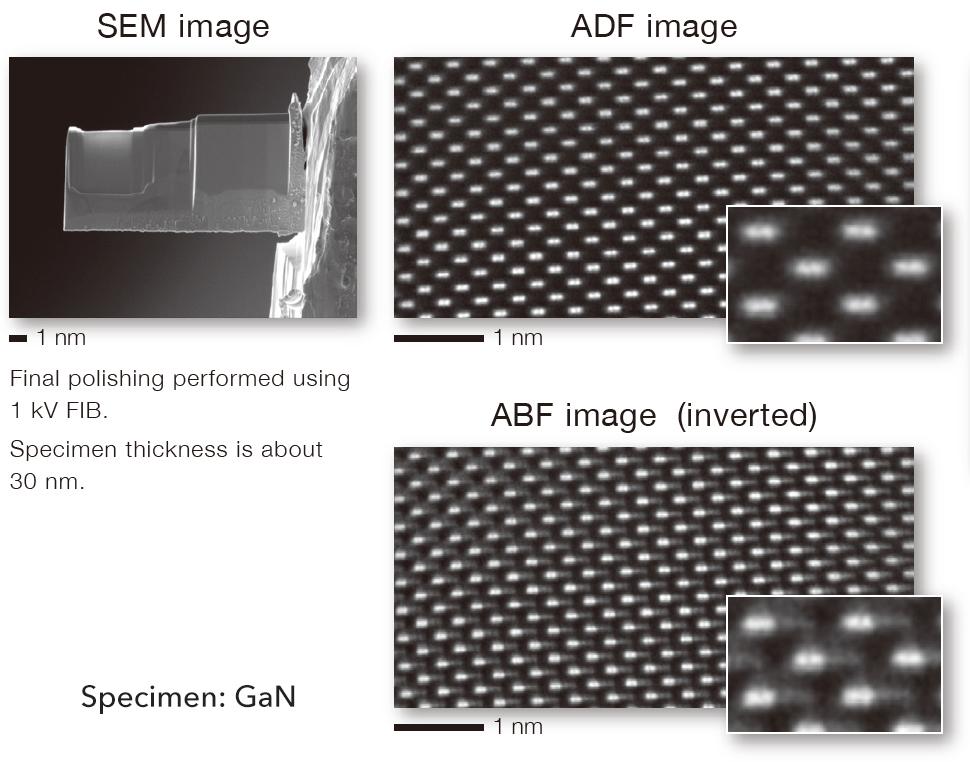 New Chamber & Stage Design
Highly-flexible, high tilt & large stage to meet any requirement.
Loading a large specimen
The JIB-PS500i adopts a large specimen chamber and a newly-developed 5-axis full eucentric large-motor stage, increasing the stage movement range while accommodating a large specimen. This large stage allows for processing and imaging of the entire surface of a specimen 130 mm in diameter. Furthermore, a sample with a height up to 80 mm can be loaded to the specimen chamber.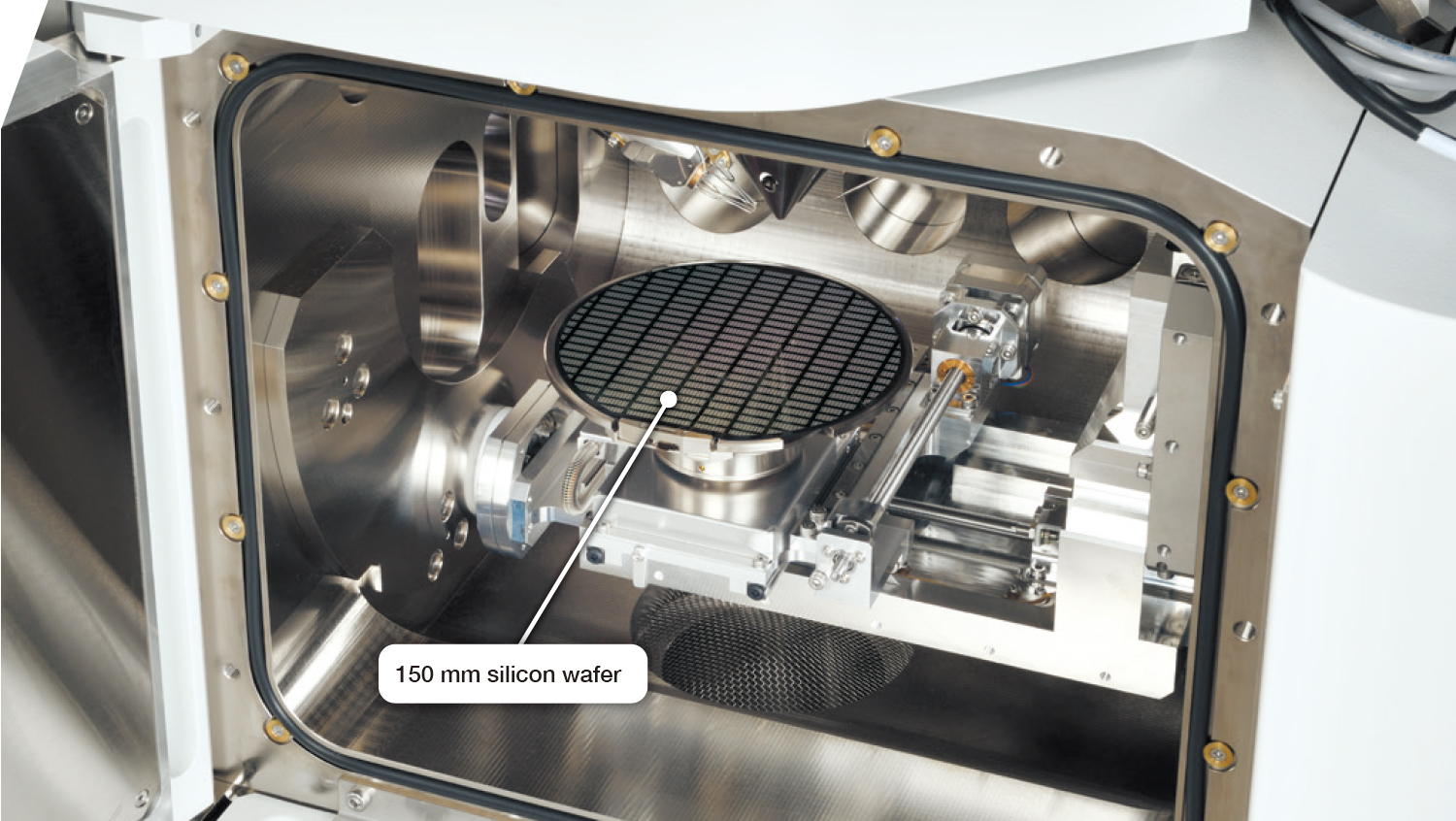 A silicon wafer 150 mm in diameter is loaded to the specimen chamber.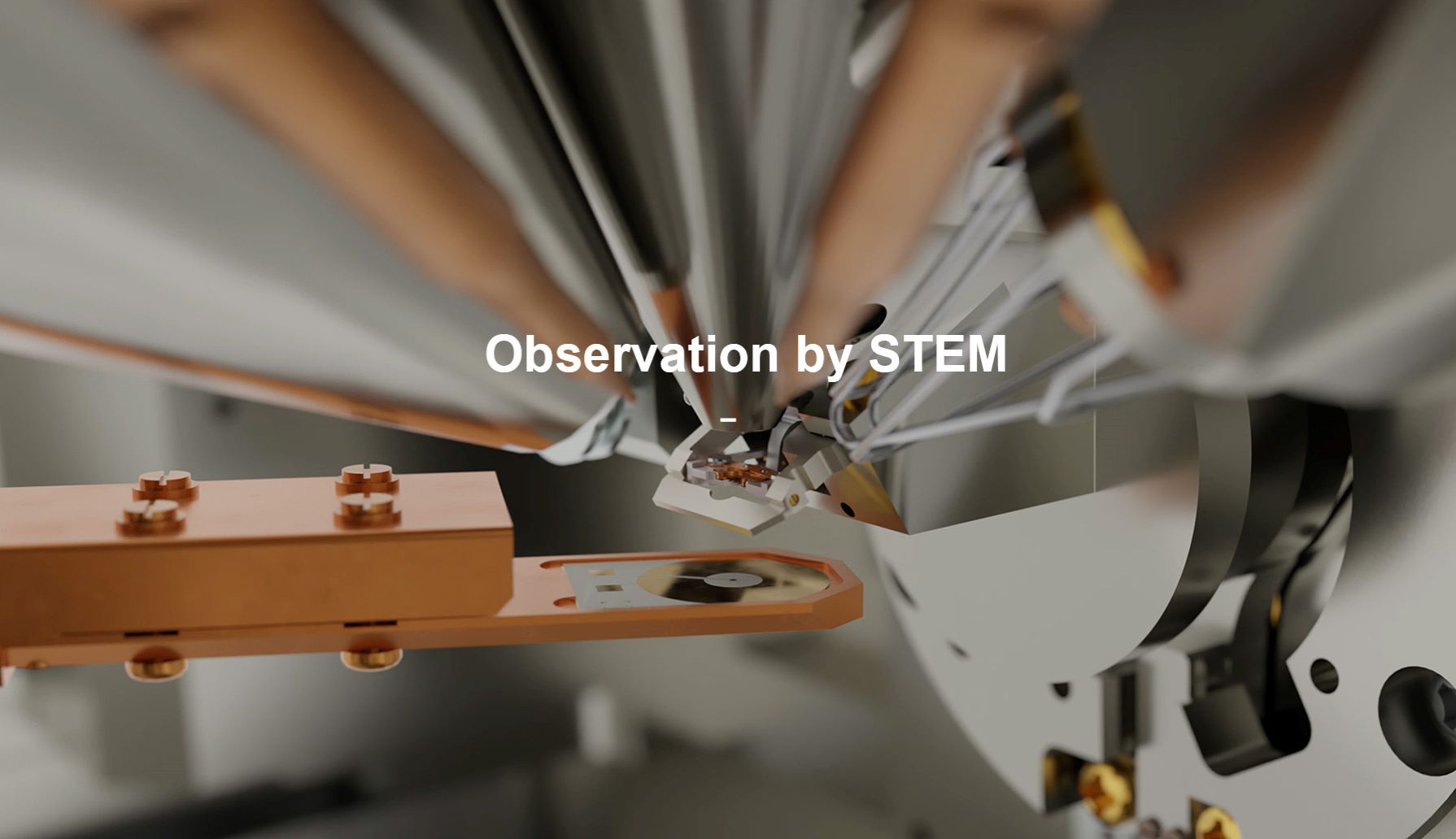 AVERT Engine to determine movement limit using 3D models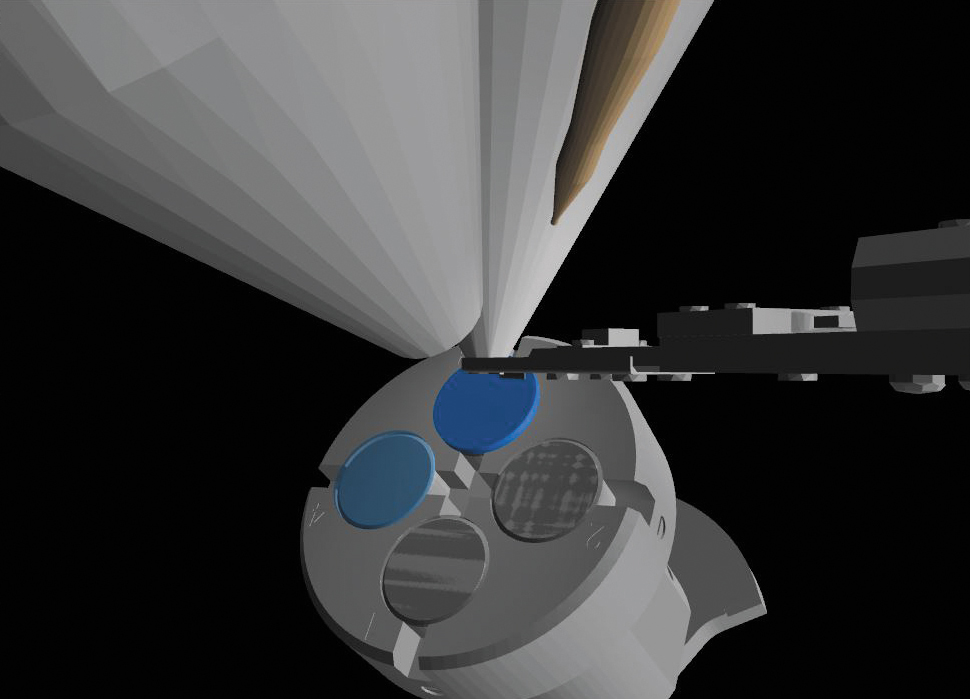 AVERT Engine is used to determine the specimen movement limit using 3D models of the specimen holder, stage and object inside the chamber. Thus in any condition, the specimen cannot interfere with the detector and objective lens.
* is optional.
Specifications
SEM
Image resolution
0.7 nm (15 kV)
1.4 nm (1 kV)
1.0 nm (1 kV, BD mode)
Magnification
×50 to ×1,000,000 (STD mode)
×1,000 to ×1,000,000 (UHR mode)
×10 to ×19,000 (LDF mode)
(128 mm × 96 mm print size)
Accelerating voltage
0.01 to 30 kV
Beam current
~1 pA to 500 nA or more
Specimen bias voltage
0.0 to -5.0 kV
Electron gun
In-lens Schottky Plus field emission electron gun
Aperture angle
control lens (ACL)
Built-in
Objective lens
Power stabilization lens
Long depth of
focus (LDF) mode
Built-in
Detector (standard)
Secondary electron detector (SED),
Upper electron detector (UED),
In-lens backscattered electron detector (iBED)
FIB
Image resolution
3 nm (at 30 kV)
Magnification
×50 to ×300,000
(limited depending on accelerating voltage)
Accelerating voltage
0.5 to 30 kV
Beam current
1.0 pA to 100 nA,
13 stages switchable (30 kV)
Movable aperture
Motor drive, 16 stages switchable
(3 stages are auxiliary)
Ion source
Ga liquid metal ion source
rocessing shapes
by milling
Rectangle, Circle, Polygon, Spot, Line, BMP
Specimen stage
Type
Full eucentric goniometer stage
Control
Computer control, 5-axis motor control
3D interference measurement AVERT Engine
Specimen
movements
X: 130 mm
Y: 130 mm
Z: 1.0 mm to 40 mm
Tilt: –40.0 to 93.0°
Rotation: 360.0° endless
Catalogue Download
Gallery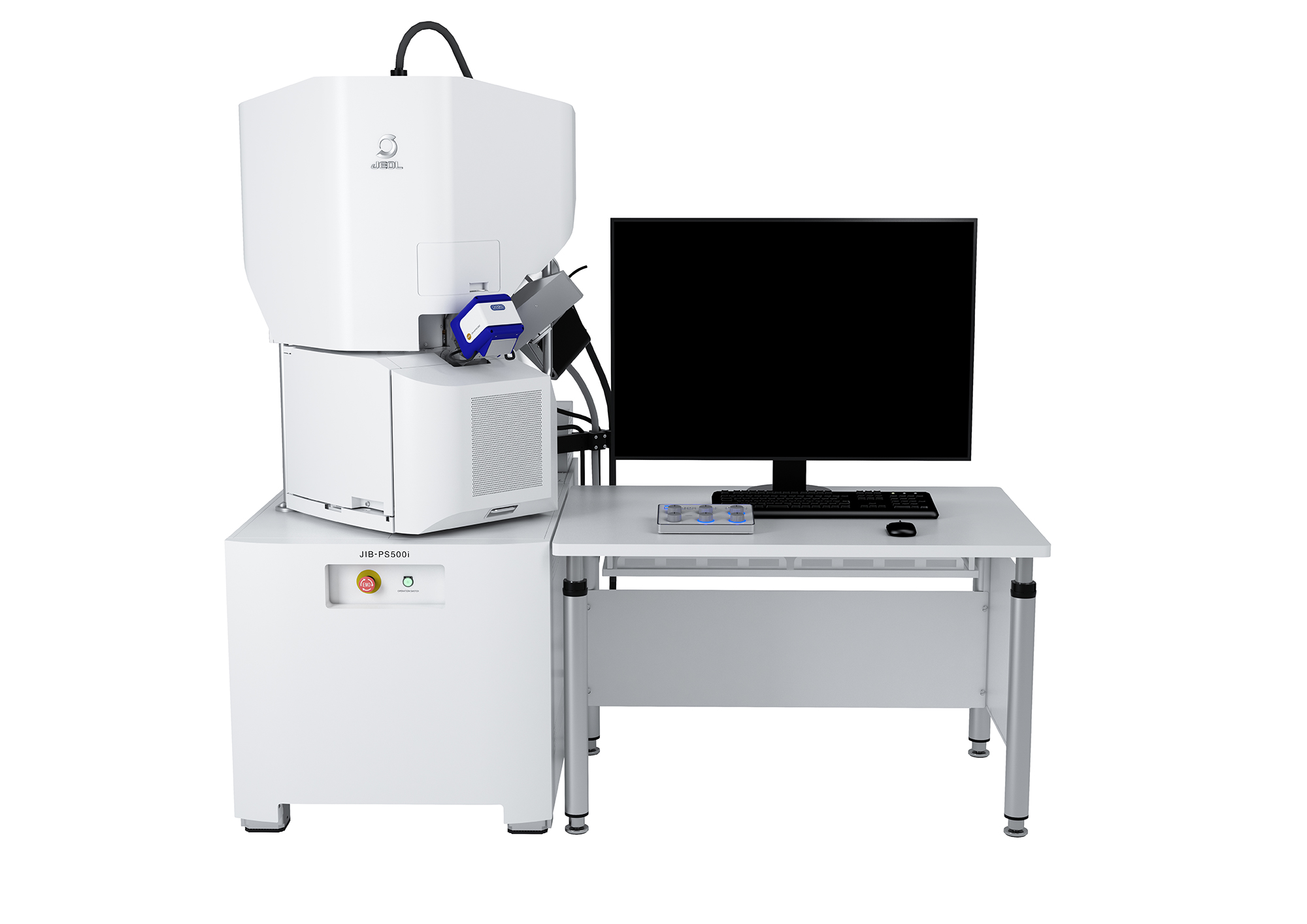 More Info


Are you a medical professional or personnel engaged in medical care?
Please be reminded that these pages are not intended to provide the general public with information about the products.