Initiatives for environmental protection through products
JEOL is implementing initiatives of environmental protection through products, such as incorporating the concept of product life cycles that are environmentally conscious and having key products that stimulate environmental improvements.
Initiatives for Product Lifecycles that Are Environmentally Conscious
JEOL is implementing initiatives that incorporate the concept of reducing environmental impact in every part of the product lifecycle, from purchasing, production to distribution, through to operations, disposal, and recycling. During development and design, we not only comply with environmental laws and regulations but we also include the reduction of CO2 emissions as a design goal. When purchasing materials, we ask component manufacturers to comply with our environmentally preferable (green) procurement requirements and to use effective environmental management. In the production phase, we strive to reduce CO2 emissions with the whole plant as well as to ensure that waste materials are disposed of in the correct way. When our instruments are being used, we ensure their stable operation through maintenance and inspections. We strive to reduce the environmental impact of these instruments during disposal but comprehensively following the 3Rs.
Scope of JEOL product assessment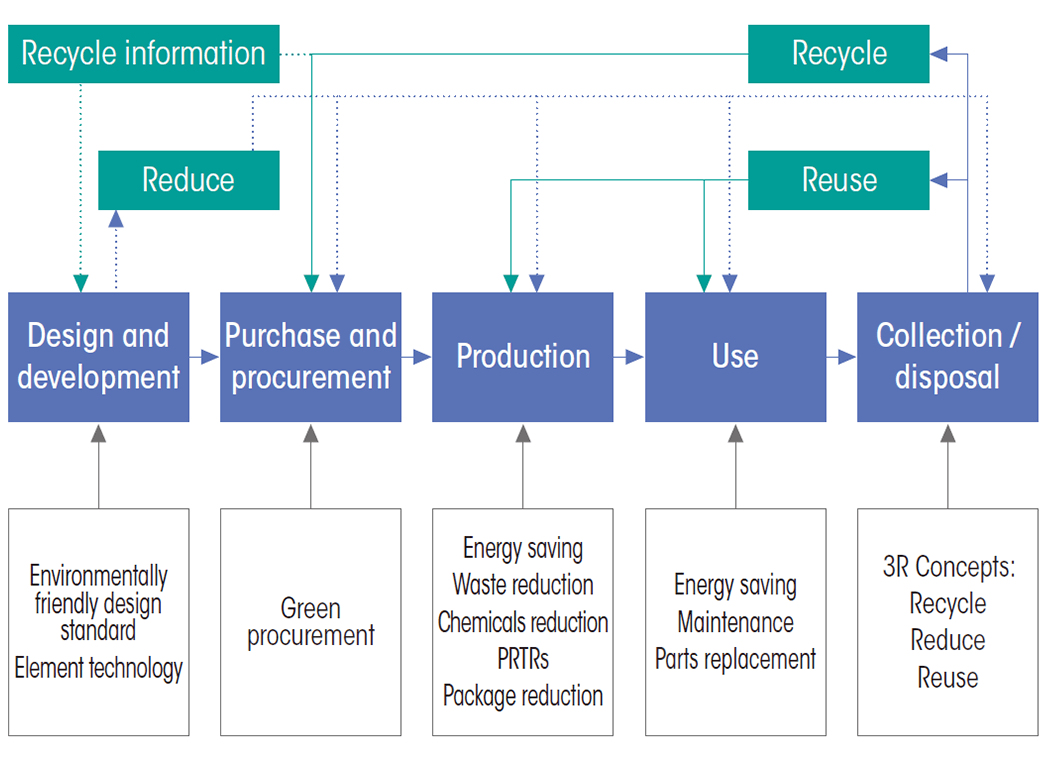 Environmental Contribution through Products
JEOL's key products are ones that stimulate environmental improvements, and they include tools that are fundamental for R&D, instruments that improve production processes, environmental analysis equipment, and 3D printers.
Atomic Resolution Analytical Electron Microscope (JEM-ARM300F2 GRAND ARM™2)
To both counter global warming and for economic viability, it is essential to conduct R&D aimed at improving the performance and reducing the size of energy devices, including rechargeable batteries; light-emitting devices, such as LEDs and OLEDs; and semiconductor devices, such as CPUs and IoT sensors. Analysis at the atomic level is necessary for the development of innovative materials for that purpose. JEOL's Atomic Resolution Analytical Electron Microscope has the performance and quality to meet these R&D needs.
High Throughput Triple Quadrupole Mass Spectrometer (JMS-TQ4000GC)
Triple Quadrupole Mass Spectrometers can detect harmful substances in food, water, and the environment with a high degree of accuracy and speed. JEOL's Triple Quadrupole Mass Spectrometer can analyze many harmful substances at high speed and enhances the efficiency of analysis for pesticide residues.
Field Emission Electron Probe Microanalyzer(JXA-iHP200F)
Analysis of trace components contained in materials is critical for the development and quality control of structural materials, including high-tensile steel, which can save energy by reducing the weight of automobiles. The JXA-iHP200F Field Emission Electron Probe Microanalyzer meets the requirements for the high-speed, high-precision analysis of trace components. In addition, this analyzer contributes to environmental improvement in a wide range of fields, such as research into the decommissioning of nuclear reactors and research for the exploration of natural resources.
Electron Beam Metal 3D Printer (JAM-5200EBM)
Metal 3D printers are expected to play an innovative role in boosting energy efficiency and reducing the weight of parts for automotive vehicles and aircraft engines; components used in the space industry, and generator turbines. Our metal 3D printers use an electron beam system that can print difficult-to-process materials, such as titanium alloys, to make high-quality products.
Green Procurement
The JEOL Group communicates our environmental policies to our clients and business partners and asks for their cooperation in complying with environmentally preferable(green) procurement requirements.
JEOL Group companies promote the development and design of products that do not contain certain chemical substances.
Our suppliers, provide services without adding specified chemicals, and deliver goods that do not contain the specified chemical substances, in accordance with the terms of their contracts with us. Working with our partners based on a "green contract", JEOL Group companies provide, to their business partners, information related to chemical regulations and help them with analysis of chemical substance to achieve specific targets.
JEOL Group Green Procurement Requirements[excerpts(*)] Version 5 (June 2010)
The JEOL Group is committed to activities to encourage environmental protection throughout the business cycle from material purchasing, product delivery, service, maintenance, and disposal.
We form on alliance with our clients, vendors, and partners to establish environmentally preferable procurement worldwide. To insure green procurement from our supply chain, we have defined a set of rules as the JEOL group Green Procurement Requirements.
「* Full text is available in "Green Procurement Requirements"」
RoHS Compliant Products
Since 2017, the JEOL Group has been providing instruments that comply with the European RoHS Directive, a directive that limits harmful substances used in making electrical and electronic products. In addition, the number of regulated harmful substances increased from six to ten in July 2021, so the Group is making every effort to ensure that our products remain compliant.
Going forward, the Group will continue to work on the development, production, and supply of products that contribute to the environmental and that are environmentally conscious by complying with the RoHS Directive in an increasing number of countries worldwide. At the same time, we are reducing our environmental impact.