JMS-TQ4000GC Triple Quadrupole Mass Spectrometer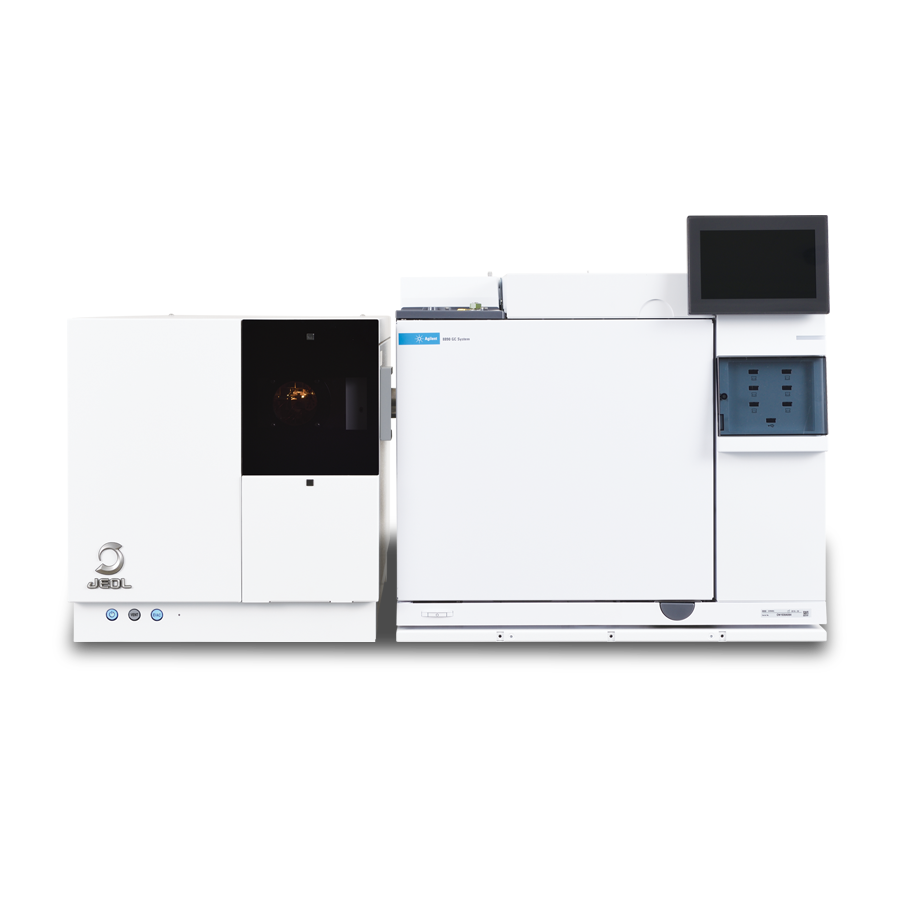 Features
High speed and high sensitive analysis was achieved by JEOL's proprietary technologies.
JMS-TQ4000GC was developed with all technologies and experience that were brewed in the development of high-end GC-MS of JEOL.
Three Technologies provide Accurate Quantitative Values Faster.
Short collision cell that has capability of ion accumulation and pulsed ion ejection allows to achieve the high sensitive and high speed measurement. Measurement time can be reduced by high speed SRM switching, 1,000 transitions/sec, that is the fastest in the industry. It allows to improve the throughput of total analysis.
Technology 1 Ion Accumulation
The short collision cell accumulates the ions for a given short time and then eject them as pulse. Noise level of the signal can be reduced by synchronizing the timing between pulsed ion ejection and signal acquisition and that makes high sensitivity analysis possible.
Technology 2 Short Cell
Using the short collision cell makes it possible to eject all of ions accumulated in the cell very quick. That provides both of high sensitivity and high speed SRM switching that is the fastest in the industry without ion interaction among SRM channels (crosstalk).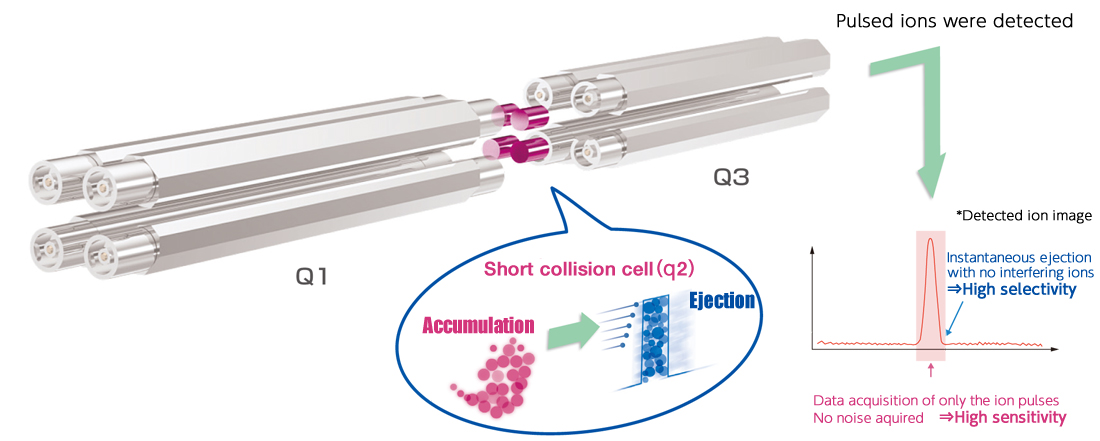 Technology 3 Fast GC
Fast GC technique (using capillary column with small-diameter and short-length, using quick heating up rate for oven temperature) can reduce the measurement time, significantly expediting the routine analysis. Since the peak widths in the Fast GC chromatogram become narrow, high-speed transition are required. Short collision cell technology gives enough high speed transition for Fast GC measurement without any sensitivity loss.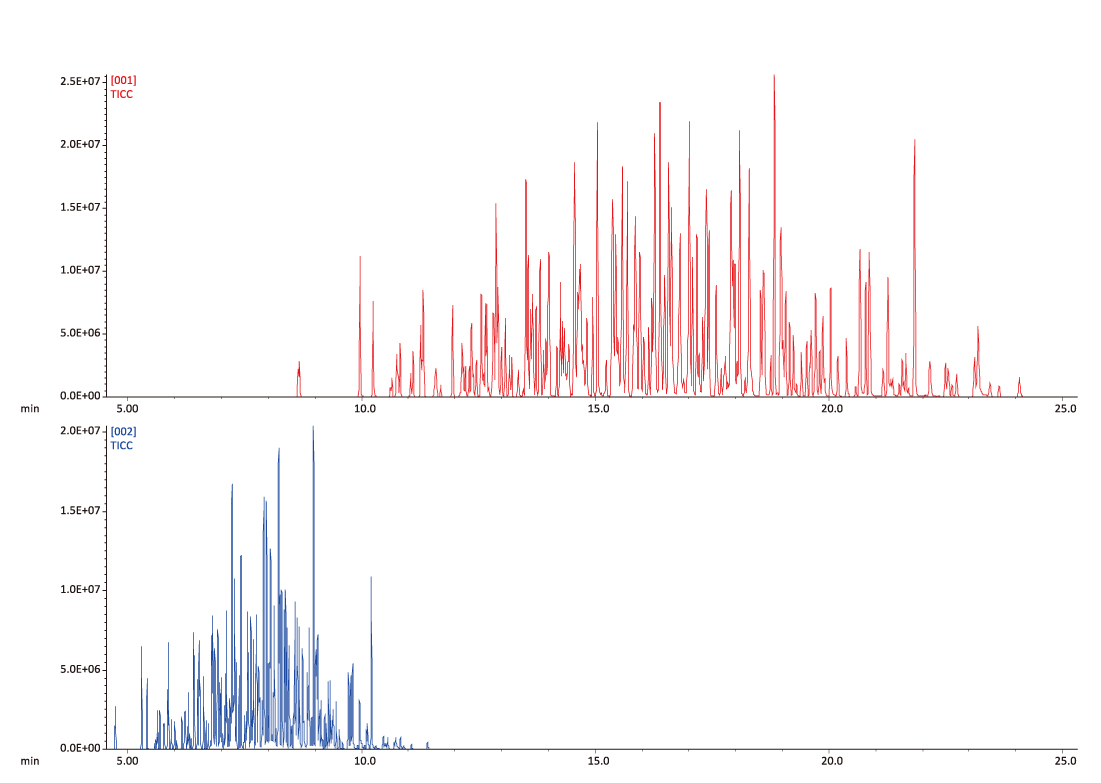 (Top)
Conventional GC-MS measurement
column:
30m length,
0.25mm I.D.,
0.25μm film thicknes
Total 40min
(Bottom)
Fast GC-MS measurement
column:
20m length,
0.18mm I.D.,
0.18μm film thicknes
Total 15min
Easier and Faster Data Analysis
Data Analysis software for Multi-Target compounds "Escrime™"
Being heedful of the real needs from customers, the data analysis software "Escrime™" was developed by focusing both of the simpler layout for easy to understand and the simpler GUI for easy to operate.
Escrime™ software has many functionalities that can achieve what users are looking forward.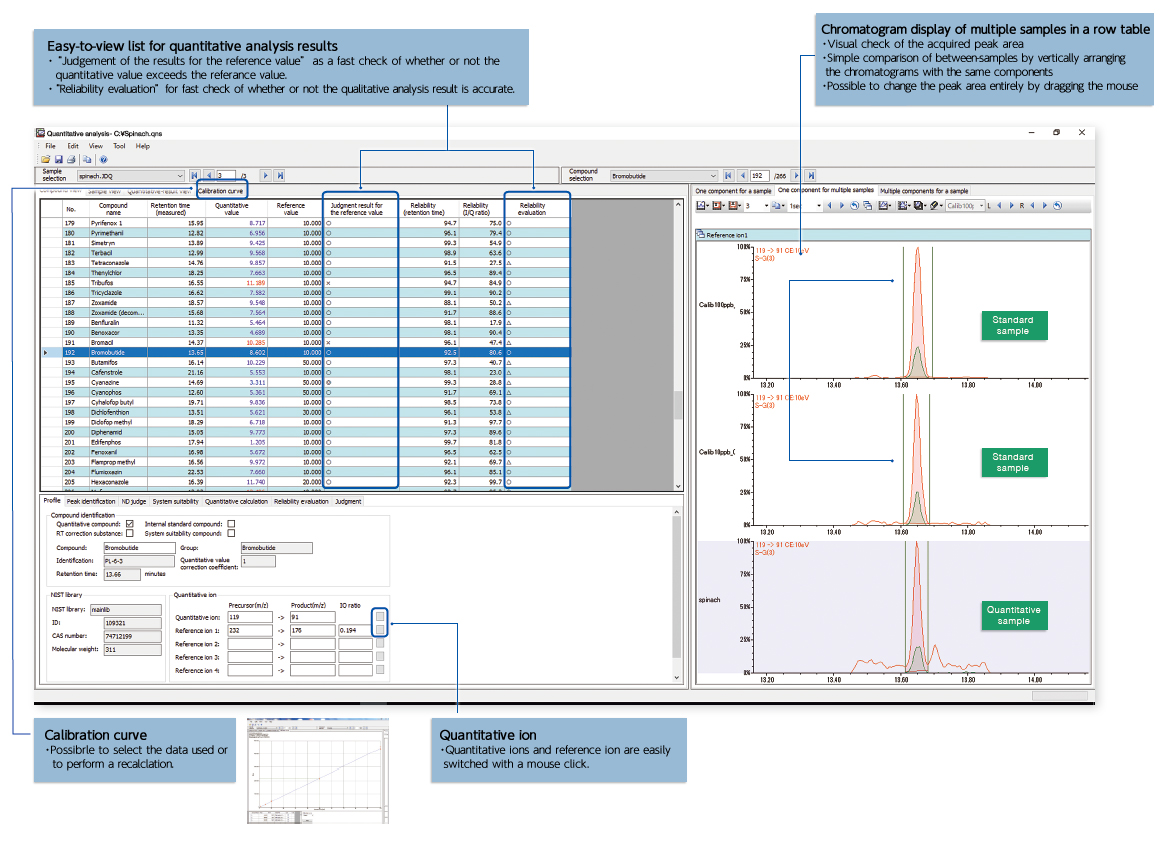 Slideshow for Data Check (Compound Slideshow Function)
Calibration curves, chromatograms and quantitative results for all target compounds and for all samples are automatically displayed on the screen. Users can check the all information without any action about their analysis and can stop the slideshow and edit the data analysis if necessary.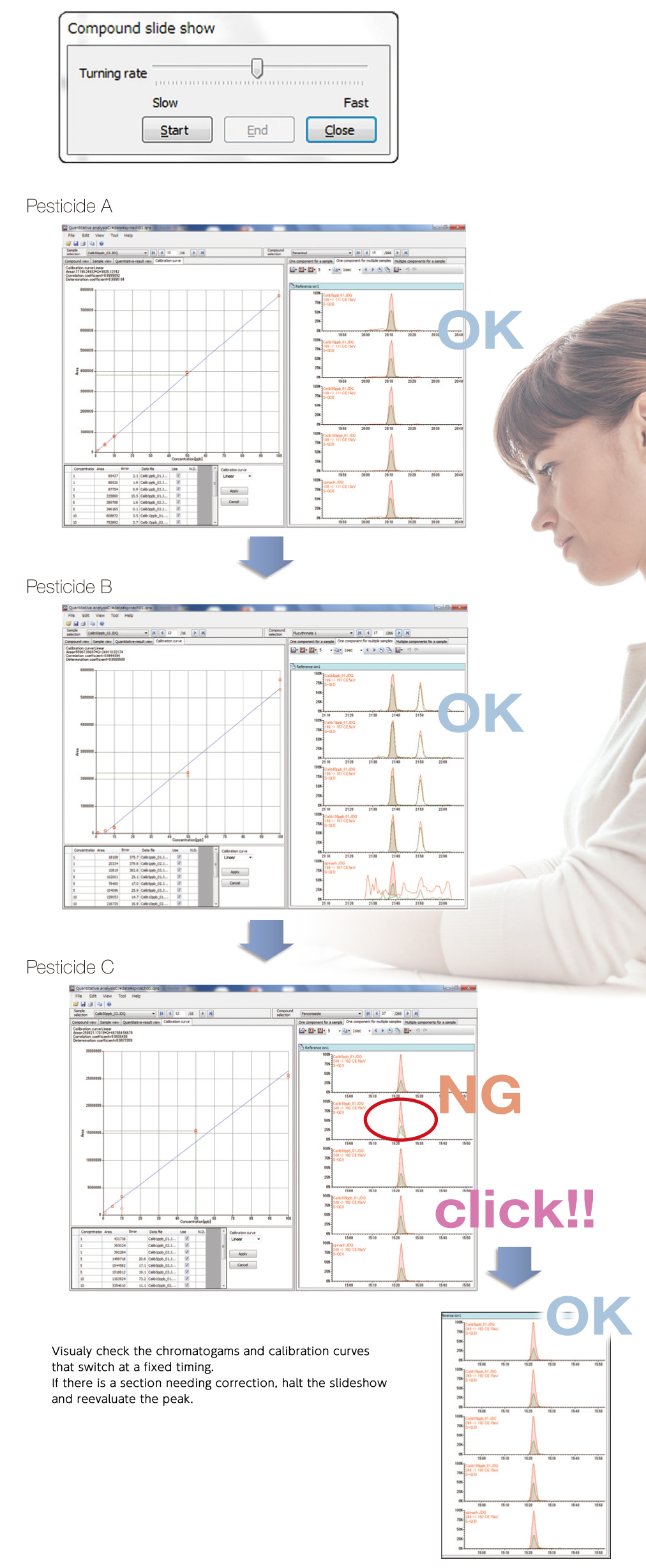 Easy Maintenance
Easy to clean-up the ion source, and Resume analysis quickly
No tools are required to remove the ion source from main body. High evacuation capability of vacuum pump make it possible to resume the analysis very quickly.

Application
Application JMS-TQ4000GC
Polymeric Materials Analysis by JEOL Mass Spectrometers - A Guidebook -
GC-TQMS Application: Dioxins analysis by New JMS-TQ4000GC and software "TQ-DioK"
GC-TQMS application: Quantitative analysis of residual agricultural chemicals in food by GC-MS/MS - Quantitative analysis of pesticides in spinach extract -
GC-TQMS application: Stability in quantitative analysis of residual agricultural chemicals in food by GC-MS/MS - Stability verification of pesticides in spinach extract -
GC-TQMS application: Quantitative analysis of residual agricultural chemicals in food by GC-MS/MS - Quantitative analysis of pesticides in carrot extract -
GC-TQMS Application: Simultaneous determination of residual agricultural chemicals in food by GC-MS/MS - Sensitivity of standard solution 1ppb and linearity of calibration curve-
Ionization Methods for JEOL Mass Spectrometers -A Guidebook-
Related Products
Related Products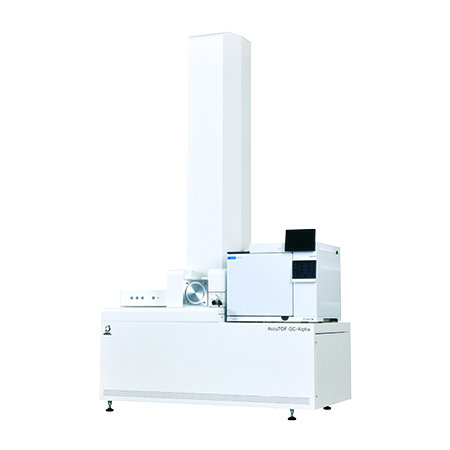 JMS-T2000GC AccuTOF™ GC-Alpha High Performance Gas Chromatograph - Time-of-Flight Mass Spectrometer
Alpha – The New Beginning
The Alpha takes you to a new world of mass spectrometry.Introducing JMS-T2000GC "AccuTOF™ GC-Alpha", the ultimate GC-MS with superior performance and ease of operation.
Click the "replay" button in the box above, and the movie will start (for 4 minutes).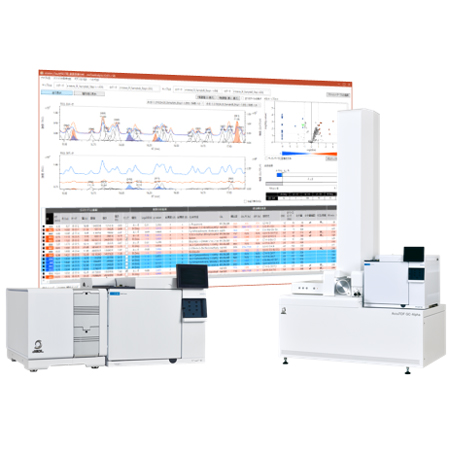 msFineAnalysis series GC-MS integrated qualitative analysis software
You no longer have to only rely on library DB searches for qualitative analysis! msFineAnalysis series
The msFineAnalysis series is an automatic qualitative analysis software that enables "integrated analysis" by combining the library database (DB) search using EI data and molecular weight confirmation using soft ionization data.
"

msFineAnalysis iQ" is designed for low resolution integer mass data analysis, and "

msFineAnalysis" is designed for high resolution exact mass data analysis. Each package improves analysis accuracy, shortens work hours, and improves work efficiency.
More Info


Are you a medical professional or personnel engaged in medical care?
Please be reminded that these pages are not intended to provide the general public with information about the products.