Soft X-ray Emission Spectrometer(SXES)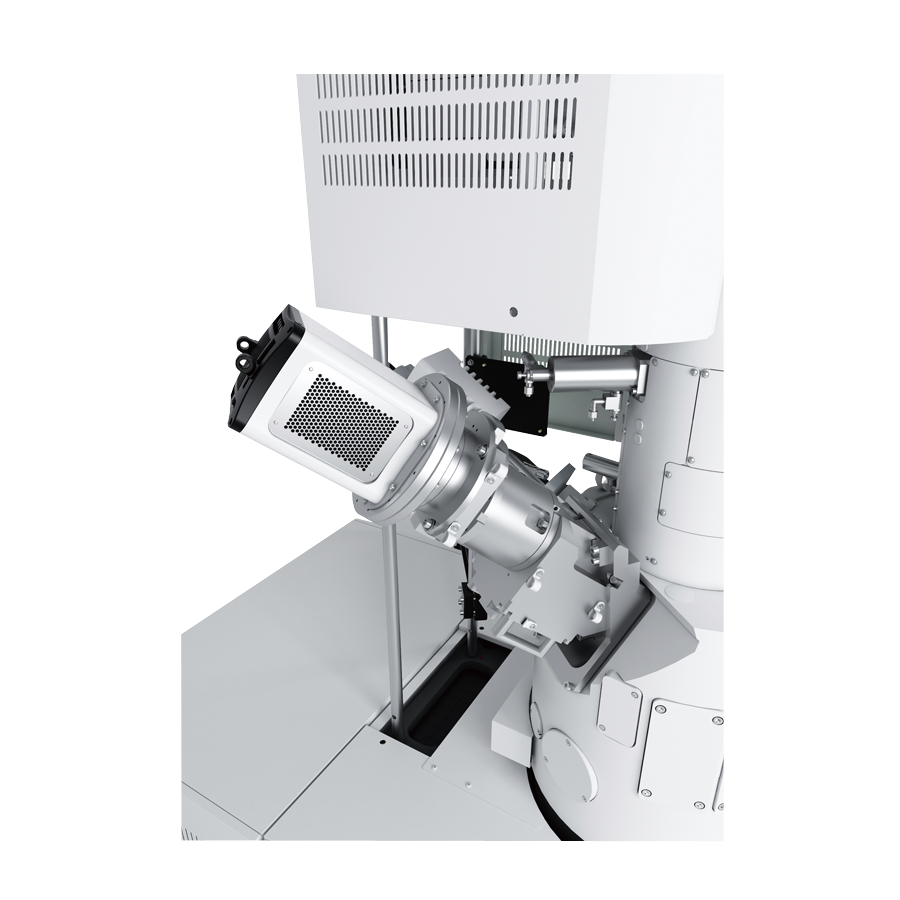 The Soft X-Ray Emission Spectrometer (SXES) is an ultra-high resolution spectrometer consisting of a newly-developed diffraction grating and a high-sensitivity X-ray CCD camera.
In the same way as EDS, parallel detection is possible, and 0.3 eV (Fermi-edge, Al-L standard) ultra-high energy resolution analysis can be performed, surpassing the energy resolution of WDS.
Features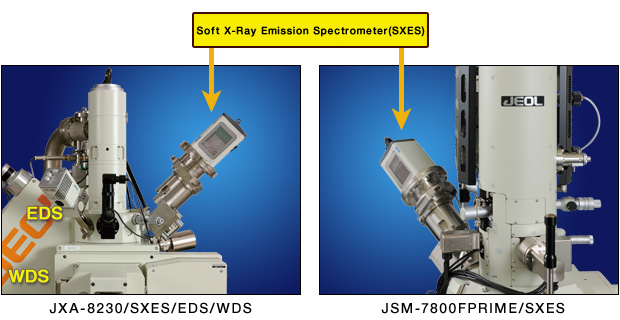 Youtube
Click the "replay" button in the box above, and the movie will start(for 4 minutes)
System outline
The newly-developed spectrometer optical system design enables simultaneous measurement of spectra with different energies, without moving the diffraction grating or detector (CCD). With the high energy resolution, chemical state analysis mapping can be performed.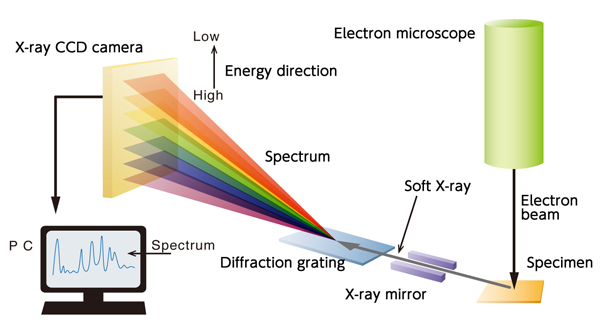 Comparison of SXES, WDS and EDS
Spectra for titanium nitride with various spectrometry methods
For titanium nitride, the peaks of N-Kα and Ti-Ll are overlapped. Even with WDS, and waveform deconvolution using a mathematical method is required. As illustrated in the figure below, there is a high energy resolution with SXES, allowing for TiLl to be observed.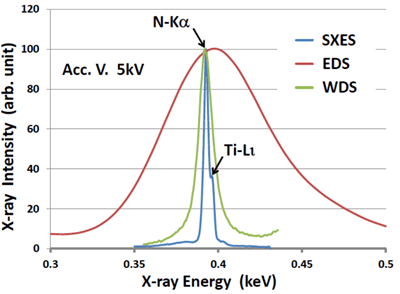 Comparison table
Feature
SXES
EPMA(WDS)
EDS
Resolution
0.3 eV
(Fermi edge Al-L)
8 eV ([email protected])
120-130 eV
([email protected])
Chemical bond state analysis
Yes
Yes (mainly light elements)
No
Parallel detection
Yes
No
(But multiple spectrometers possible)
Yes
Spectral elements & detector
Diffraction grating+CCD
Analyzing crystal + Proportional counter
SDD
Detector cooling
Peltier cooling
Not needed
Peltier cooling
Detection limit
(reference value with B)
20ppm
100ppm
5000ppm
Li-ion battery (LIB) Analysis Example
The example below shows large area maps of LIB samples with different charge states. SXES can map the Li-K peak at both the valence band state (left) and the ground state (middle). A carbon distribution map (right) can also see the function on the LIB that is fully discharged.

Fully-charged, Li-K specimen spectrum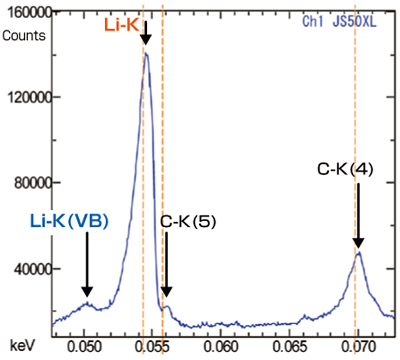 Note: In Li-oxide it is difficult to detect Li-K emission
Light element measurement example
Measurements of carbon compounds using SXES
It is possible to measure the differences between diamond, graphite and polymers. The differences can be observed with the additional peaks from π and σ bonding. As mapping takes a spectra from each pixel, additional maps can be generated for peak shifts of 1 eV and shoulder peaks.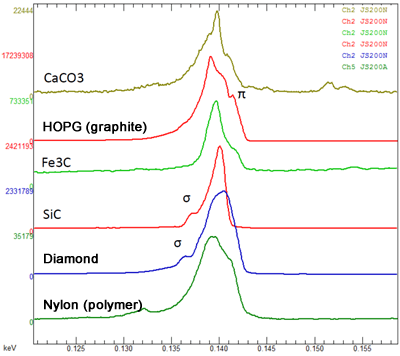 Measurements of various nitrogen compounds
For nitrogen as well, the chemical bonding state can be analyzed from the spectrum peak shape. The peak shapes for nitrates and nitride are completely different, and it is even possible to observe the unique peak shape for ammonium salt, which is very beam sensitive.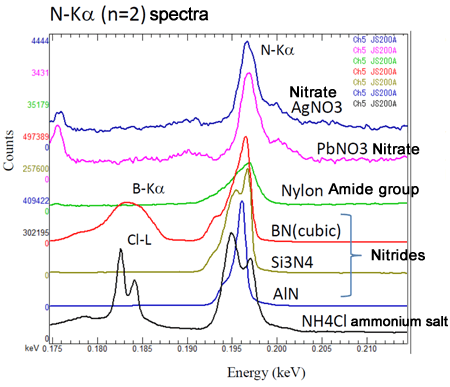 Specifications
Energy resolution 0.3eV(Al-L spectrum measured @73eV)
Acquisition energy range: Diffraction grating JS50XL energy region 50-170eV
Acquisition energy range: Diffraction grating JS200N energy region 70-210eV
Spectrometer chamber mounting points:
EPMA WDSport: No.2 port (right side from front)
FE-SEM WDS port (left rear from front)
Spectrometer dimensions: W 168mm×D 348mm ×H 683mm
Distance including CCD from the interface
Spectrometer mass 25kg
Applicable models
EPMA : JXA-8530F, JXA-8230, JXA-8500F, JXA-8200
SEM : JSM-7800F, JSM-7800 Prime, JSM-7100F
Catalogue Download
Soft X-ray Emission Spectrometer(SXES)
Application
Application SXES_SA
Handbook of Soft X-ray Emission Spectra Version 7.0 (Dec. 2021)
Chemical State Analyses by Soft X-ray Emission Spectroscopy
SXES Handbook
Please check here for details.
Related Products
Related Products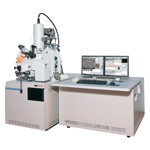 JXA-8530F Field Emission Electron Probe Microanalyzer
JEOL revolutionized surface analysis with an EPMA featuring a field emission (FE) electron gun, and now is proud to present a new upgraded FE-EPMA. The JXA-8530F operates on PC Windows for data acquisition and analysis while maintaining the powerful hardware of the JXA-8500F including the FE electron gun, EOS, and vacuum system to achieve the ultra micro area analysis. User friendly, PC-based operation facilitate quick and easy analyses at the highest magnifications.
JXA-iHP200F Field Emission Electron Probe Microanalyzer (FE-EPMA)
Electron Probe Microanalyzer (EPMA) has been utilized as a tool for research development and quality assurance in a variety of industrial fields such as steel, automobile, electric component, battery material and its application are expanding more and more. In addition, in academic fields, EMPA has been widely used in earth planetary science and material science, and the future contribution can be expected to applications including various advanced researches covering material energy research such as minerals and various new materials. In response, "simpler" and "faster" use of instrument, accessible to anyone is in demand while maintaining the high performance of microanalysis.
JXA-iHP200F and JXA-iSP100 are integrated EPMAs with enhanced features, satisfying these needs and achieving more efficient operations from observation to analysis.
EPMA is abbreviation for Electron Probe Microanalyzer.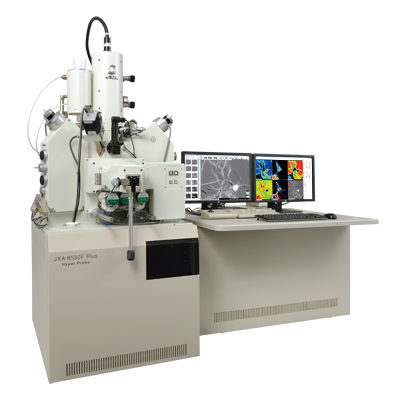 JXA-8530FPlus Field Emission Electron Probe Microanalyzer
JEOL commercialized the world's first FE-EPMA, the JXA-8500F in 2003. This highly regarded FE-EPMA has long been used in various fields, such as: metals, materials and geology in both industry and academia. The JXA-8530FPlus is a third-generation FE-EPMA that comes with enhanced analytical and imaging capabilities. The In-Lens Schottky field emission electron gun combined with new software provides higher throughput while maintaining high stability, thus allowing a wider range of EPMA applications to be achieved with higher resolution.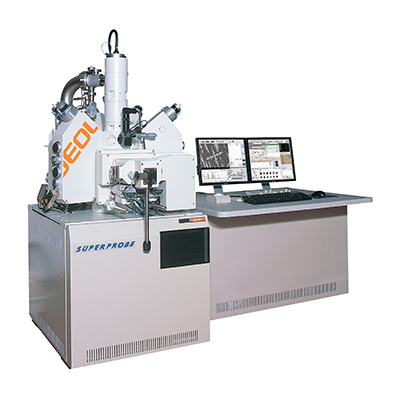 JXA-8230 Electron Probe Microanalyzer
User-friendly PC-based operation
The EDS, which is a versatile and easy-to-use X ray detector, can be mounted. A combined WDS snd EDS system provides a seamless and user-friendly environment for analysis.
More Info


Are you a medical professional or personnel engaged in medical care?
Please be reminded that these pages are not intended to provide the general public with information about the products.