TOP COMMITMENT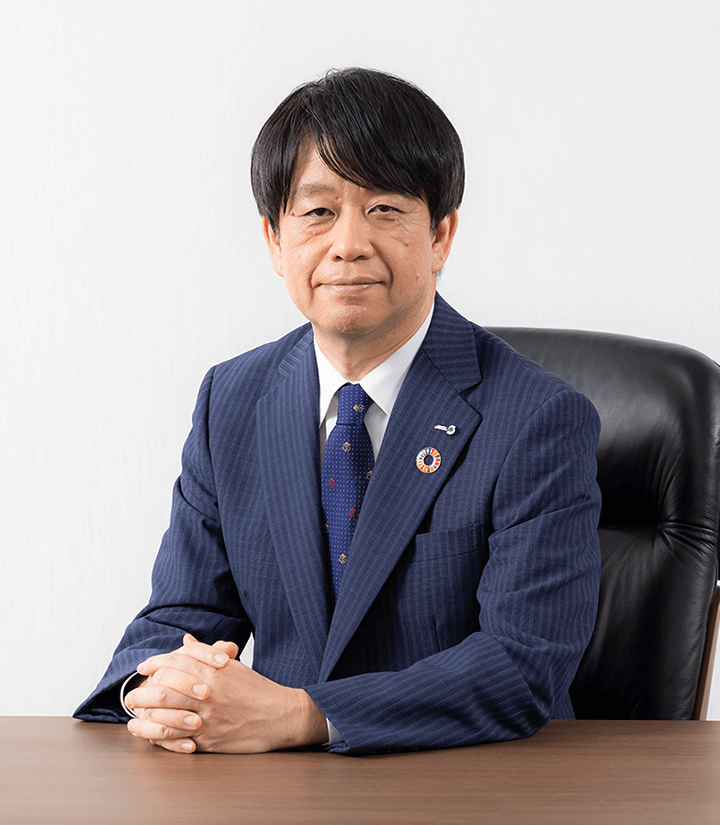 TOP COMMITMENT
We will contribute to society by helping the progress of science and technology, based on our DNA elements of "putting the community before yourself" and being "BORN GLOBAL"
Izumi Oi
President & CEO
"Putting the community before yourself" "BORN GLOBAL"
Since our foundation in 1949, we have been engaged in sustainability management today, based on our DNA for 70 years. Two elements of our DNA are "putting the community before yourself" (intending to emphasize social contributions while maximizing our gains) and being "BORN GLOBAL". Kenji Kazato, the founder of JEOL Ltd. began developing and manufacturing electron microscopes as he believed that the development of basic science and the "microscopic world", which is nanotechnology would be inevitable for the recovery of the once defeated Japan. Before the SDGs were noticed, we had a management philosophy of 【On the basis of "Creativity" and "Research and Development", JEOL positively challenges the world's highest technology, thus forever contributing to the progress in both science and human society through its products】. And the culture of contributing to the progress of science and technology to resolve social issues is still alive.
Contribute to solving social issues
With the recent new corona virus infections, the scanning electron microscope (SEM), transmission electron microscope (TEM), cryo-electron microscope, nuclear magnetic resonance spectrometer (NMR) have all been utilized for observation and structure analysis of the virus. I think that our products are playing a significant role against social challenges that are extremely important such as research and development of vaccines and pharmaceutical drugs. Thus, we can be deeply involved with scientific researches by offering these cutting-edge instruments and further contribute to the solution of social challenges further. This is a major advantage for our company. In order to realize our contribution utilizing this feature, we highlighted 6 materiality (priority social issues) in total, consisting of 3 "SDGs being addressed through business" and 3 "SDGs being addressed through ESG initiatives". From now on, we will actively communicate that our DNA, philosophy, and our business activities are in line with the ideas of the SDGs and have been since our founding.
New Growth Vision of JEOL Group "Evolving in the 70th Year"
Our continued growth as a company is required in order to contribute to the progress of science and technology, and attain the materiality that will contribute to the achievement of the SDGs. In 2019, the year we celebrated our 70th anniversary, we announced "Evolving in the 70th Year" as our new growth vision. Our scientific and analytical instrument businesses in the academia market, are our core segment which has been cultivated over many years based on our DNA and philosophy. However, the domestic output of approximately hundreds of millions of yen is not that large. In order for the company to grow further, it is required to expand the business to larger markets such as semiconductor equipment, industrial equipment, medical equipment, and services business while continue to reinforce the core businesses.
"YOKOGUSHI"
In addition, we have been working on our strategy and measures with the keyword excluding "YOKOGUSHI". Our company possesses a broad product lineup that you will not find anywhere else. Combining each of these products across categories in an organic way allows us to provide next-generation solutions, this is "YOKOGUSHI". The "YOKOGUSHI" will grow the corporate culture where different category sections work together and develop a new added value through a cross-sectional cooperation. For example, solutions are thought about not just with one product of electron microscope, but with product lineup of the whole company. The "YOKOGUSHI" is not only used within the company. We also believe that it will lead to open innovation where collaborations are promoted among industries and between academia and industries while respecting their identities to create new value.
Employee awareness activities
It is important for all employees to work together in activities that contribute to the sustainability of society and the company. For this reason, we are also focusing on awareness-raising activities for employees. For the purpose of improving our corporate culture, we have performed activities under the theme of the SDGs for two years since 2020 in an organization called the "KF Committee", which is organized mainly by young employees. The activities included posting posters on the SDGs throughout the company and distributing in-house articles and interviews with customers who are taking advanced initiatives. These activities provided a good opportunity for employees to learn and think deeply about the SDGs.
As I have mentioned, our business contributes to science and technology, and our mission is to continue to develop that business in the future. As a result, we hope to contribute in solving numerous social issues as represented by the goals of the SDGs.
April 2022
Izumi Oi
President & CEO
JEOL Ltd.