Release Date: 2017/11/20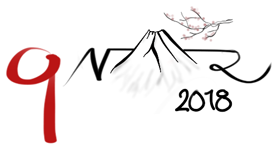 The qNMR Summit 2018 in Tokyo will be held on January, 29th and 30th 2018, in Tokyo, Japan. This Summit is being hosted by JEOL Ltd, Wako Pure Chemical Industries Ltd. and is being implemented under the auspices of the Japanese Ministry of Economy, Trade, and Industry 2017 "Initiative to Promote Strategic International Standardization".

Organized by:JEOL Ltd., Wako Pure Chemical Industries, Ltd.
Date/Period:
1:30pm~5:10pm Monday, January 29, 2018
9:00am~7:00pm Tuesday, January 30, 2018
Location:
Marunouchi OAZO -16th floor of the Marunouchi Kitaguchi Building, FUKURACIA
Address: Marunouchi Kitaguchi Building 16th floor, 1-6-5, Marunouchi, Chiyoda-Ku, Tokyo
※Two-minutes on foot walk from Marunouchi North Exit underground passage of the JR Tokyo Station
Access Map
Registeration:
Fee:
Free (No registration fee)
*Simultaneous interpretation of Japanese / English will be provided for all lectures.

Capacity:
International qNMR Forum 200 people
USP qNMR Symposium in Tokyo 250 people
International qNMR Symposium  250 people
* Application acceptance will be closed as soon as it becomes capacity.

Entry: Finished
Program
Day 1 (Monday, Jan 29)
International qNMR Forum
Working toward ISO - Understanding NMR standards in the world
Timetable

Theme


Speaker
1:30pm - 1:50pm
Declaration Introduction of International qNMR Forum
▼-Summary of Opening Meeting for qNMR-
1:50pm - 2:05pm

Summary of Opening Meeting for qNMR


Dr. Naoki Sugimoto, NIHS
▼-Standards of NMR in JAPAN-
2:05pm - 2:20pm

qNMR in Japan's specifications and standards for food additives


Dr. Naoki Sugimoto, NIHS
2:20pm - 2:35pm

Specifications of qNMR in JIS


Dr. Yuko Oofuku, Wako Pure Chemical
▼-Standards of NMR in China-
2:35pm - 3:00pm

Standards of NMR in China (Tentative)


Dr. Lan He, China National Institutes for Food and Drug Control
▼-Topic about Weighing-
3:00pm - 3:15pm

Good weighing practice for accurate qNMR sample preparation


Dr. Klaus Fritsch, Metoller-Toledo GmbH
3:15pm - 3:45pm
Afternoon Break
▼-Standards of NMR in the USA-
3:45pm - 4:10pm

Standards of NMR in USA (Tentative):USP, ASTM....


Dr.Gabriel Giancaspro, The United States Pharmacopeial Convention (USP)
▼-Standards of NMR in the EUROPE-
4:10pm - 4:35pm

EUROLAB NMR Validation Guideline


Torsten Schöenberger, Bundeskriminalamt (BKA)
▼-Topic about Reference Standards and qNMR-
4:35pm - 5:00pm
Role and Use of Reference Materials to underpin SI-Traceable measurement :
A Proposed "Primary Calibrator Suite" for

1H qNMR"
Dr.Steven Westwood, Bureau International des Poids et Mesures Department of Chemistry (BIPM)
5:00pm - 5:10pm
Closing Remarks
DAY2 (Tuesday, Jan 30)
USP qNMR Symposium in Tokyo
NMR and qNMR in Pharmacopeial Context, Compendial NMR and qNMR
9:00am - 12:00pm

Tentative


This session will be organized by USP
12:00pm - 1:00pm
Buffet Lunch
International qNMR Symposium
qNMR in pharmaceutical science: Present and Future
Timetable

Theme


Speaker
1:00pm - 1:10pm
Opening Remarks
▼-Parmacopoeia-
1:10pm - 1:40pm

Introduction and Implementation of qNMR in the Japanese Pharmacopoeia


Dr.Yukihiro Goda, NIHS
1:40pm - 2:10pm

The use of qNMR as orthogonal method for the establishment of Ph. Eur. reference standards


‐Dr.Matthias Weber, European Directorate for the Quality of Medicines & HealthCare (EDQM)
▼-Practical Application-
2:10pm - 2:40pm

Application of qNMR in Drug Discovery


Dr. Kohei Kiyota, SHIONOGI & CO., LTD.
2:40pm - 3:10pm

Accurate qHNMR of Controlled Substances in Mixtures


Dr. Charlotte Corbett, US Drug Enforcement Administration (DEA)
3:10pm - 3:40pm
Afternoon Break
▼-New Approaches in qNMR Data Anaylsys Approarch-
3:40pm - 4:40pm

A quantum mechanical approach to qNMR


Matthias Niemitz, NMR Solutions Ltd.

Advances with Quantification in the Time Domain in 1 and 2 Dimensions


Ronald Crouch, JEOL USA, Inc.

Full software automation of NMR Purity Determinations


Dr.Michael Bernstein, Mestrelab Research
▼-Future for qNMR (Tentative)-
4:40pm - 5:30pm

The Future for qNMR (Tentative)


Dr.Guido F. Pauli, University of Illinois at Chicago
5:30pm - 5:40pm
Closing Remarks
5:40pm - 7:00pm
Social Mixer
*Please note that this program is subject to change without notice.

The qNMR logo is licensed under a Creative Commons Attribution-ShareAlike 4.0 International License.


Are you a medical professional or personnel engaged in medical care?
Please be reminded that these pages are not intended to provide the general public with information about the products.