Solid-state NMR to elucidate the atomic level structures: basic principles and applications
Release Date: 2023/01/19
Update: 2023/03/10
Solid-state NMR is a versatile tool to probe at atomic level structures.
Since solid-state NMR does not require periodic structures unlike diffraction method, it is frequently applied to amorphous and glassy materials.
In this talk, the brief introduction of basic solid-state NMR will be presented.
In addition, recent advances in fast MAS technic will be addressed.
Practical application to elucidate atomic-level structure will be demonstrated.
This seminar will be held on the web. You can participate not only from your PC, but also from your smartphone or tablet, as long as you have access to the web. We look forward to your participation.
By attending this webinar you will learn…
Basic principles of solid-state NMR

Recent progress of fast MAS technology especially 1H high resolution NMR of rigid solids

How to use solid-state NMR to reveal structures
Who should attend?
Those who is interested in solid-state NMR

Those who are facing a difficulty to use solid-state NMR

Those who are working on amorphous materials
Presenter
Yusuke Nishiyama
NM business unit, JEOL Ltd.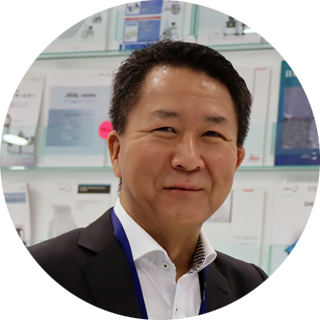 Date/Period
February 13, 2023 (Mon)

2:00 pm JST (Tokyo)

Approximately 60 minutes (30 mins talk plus 30 mins QA)
Related Products
Fee
Free
Registration
This webinar has been over.
The webinar movie is available on demand.
Contacts
E-mail:sales1[at]jeol.co.jp
(please use @ for [at])
Demand Generation Div.
JEOL Ltd.
Movie
Please enter your information to move to the movie page.


Are you a medical professional or personnel engaged in medical care?
Please be reminded that these pages are not intended to provide the general public with information about the products.