Application of qNMR. Part 3:Quantification of quercetin in Tartary buckwheat
NM100008
NMR spectroscopy can count the number of atoms in molecules, and so purity of the sample  can be quantitatively determined from the ratio of signal intensities of a standard material  and a target material. Quantitative NMR (qNMR) has wide applicability because it does not  require a target matrial of known purity as standard. This application note introduces an  example of qNMR analysis for quercetin, a functional component of Tartary buckwheat.
Target material:Quercetin
Tartary buckwheat, containing functional flavonoid rutin as a main component, gets attention as a healthy food. Rutin, however, is not detected in Tartary buckwheat noodle because of coexisting rutin-degrading enzyme. Instead, another flavonoid quercetin is detected.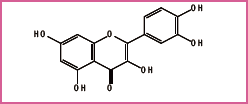 Quercetin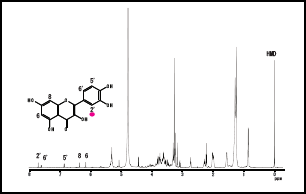 Fig. 1 qNMR spectrum of Tartary buckwheat  (Spectrometer: JNM-ECA600)
Purpose: Purity of quercetin in extraction liquid  of Tartary buckwheat is quantitatively determined  by HPLC and qNMR.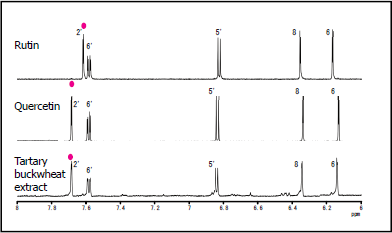 Fig. 2 qNMR spectra of commercial reagents of rutin and  quercetin and Tartary buckwheat extract.
Table  Measurement conditions
Parameter of JNM-ECA600
Observed nucleus
1H
Observed range
-5ppm~15ppm
Data points
32K
Digital filter
ON(8 times)
Recycle delay
60s
Flip angle
90°
Scans
8 scan
Temperature
25℃
Spinning
OFF
The NMR signals of 6, 8, 5', 6'-protons for Tartary buckwheat may be attributed to rutin and other  flavonoid glycosides, and so the signal of 2-proton is used for analysis.
Conclusion
Purity of quercetin in Tartary buckwheat  was determined by qNMR.
Purity determined by LC almost agrees  with that by qNMR.

Though qNMR is a useful analysis when a  target sample of known purity is not avail-  able, its sensitivity is lower than chromatog-  raphy. However, the combination of these  may lead to quantitative analysis with high  reliability.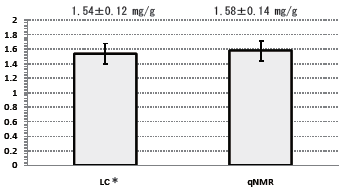 Fig. 3  Purities of quercetin in Tartary buckwheat
* Corrected with the purity determined by qNMR.
Reference
N.Sugimoto, A.Tada, T. Suematsu et al. , Jpn.J.Food Chem.Safety, 17(3),179-184
Related Products
Solutions by field


Are you a medical professional or personnel engaged in medical care?
Please be reminded that these pages are not intended to provide the general public with information about the products.