Learning Polymer Material Analysis from Natural Lacquer (Urushi) - Characterization of Urushi -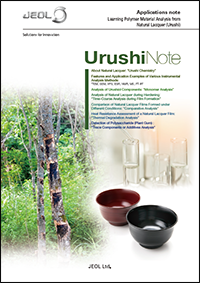 Introduction
In recent years, polymer materials have become more complex due to increased composition and diversification so that a one-sided analysis is insufficient and multifaceted observations and analyses are required.
In response to this need, JEOL has engaged in applied research under the keyword of "YOKOGUSHI" (multifaceted or cross-instrumental) using various instruments organically. In this Urushi Note, multifaceted analysis methods for polymer materials are illustrated using the examples of natural lacquer (urushi) analysis.
Please see the PDF file for the additional information.
Another window opens when you click.


PDF 7.57MB
Related Products
Solutions by field


Are you a medical professional or personnel engaged in medical care?
Please be reminded that these pages are not intended to provide the general public with information about the products.