Analysis Center (CRL), Central Research Laboratories, DIC Corporation
The need to examine the molecular structure of new materials using Solid State Nuclear Magnetic Resonance spectroscopy.
DIC Corporation was established in 1908 for the manufacture and distribution of printing inks. Having established itself as the world's market-leader in printing inks, the business was subsequently expanded to include manufacture of the basic materials of organic pigments and synthesized resins. The company name has now become well known as a major manufacturer of chemical products including fine chemicals and polymers.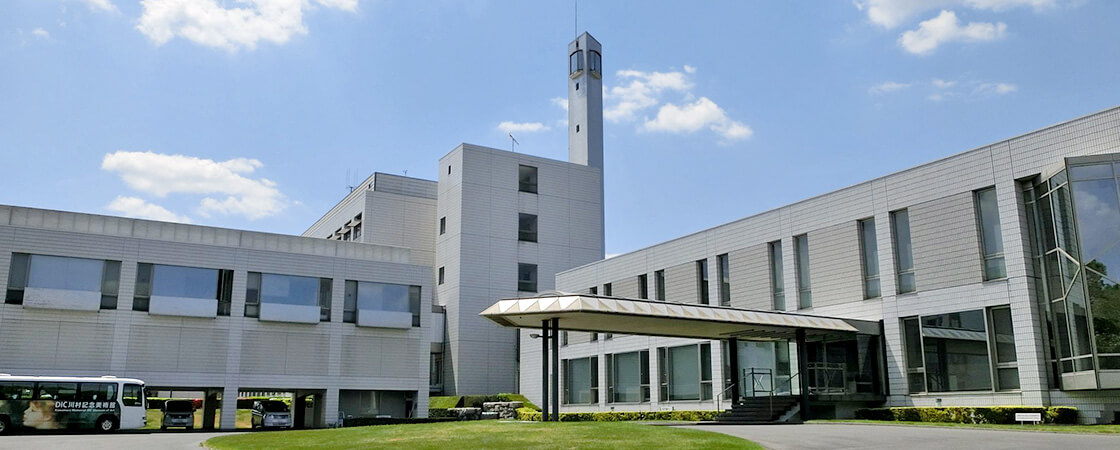 World-class manufacturer of highly functional chemical products
DIC has earned an excellent reputation for developing highly functional products for many different world markets. E.g.
Materials for LCDs (liquid crystal displays),

High performance polymers for automobile parts that are heat-resistant with excellent insulation properties,

Robust food packaging that is nevertheless easily opened,

Coating materials that protect buildings surfaces from deterioration.
These and other novel products have been developed at the DIC Central Research Laboratories in Sakura-city, Chiba, Japan.
New pigment solved problems of LCDs
One of the products that surprised the world was a new green pigment as the source of the color filter in liquid crystal displays.For liquid crystal displays, many different characteristics are required:
For large-sized liquid crystal TV and LCD displays, providing a realistic image and high color reproducibility is required.

For smart phones, the small screens need to be easily-viewable and clear, as well as very bright so that they can be seen and read even in low-illumination conditions. This can be important to preserve battery life.
To improve brightness, it is acceptable to reduce the thickness of the color filter to improve the transparency but this adversely affects depth of color. So the question arises of how to create a display with high brightness and vivid colors. After much thought and hard work, DIC provided the answer by creating a new pigment.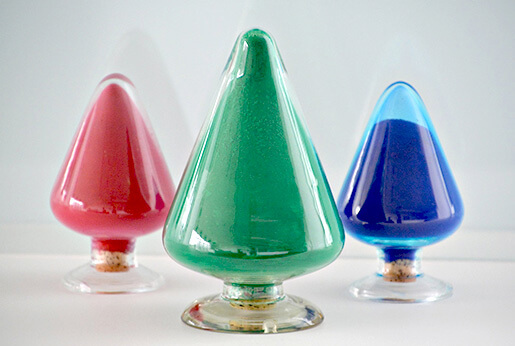 Conventionally for the color green, copper containing pigments were commonly used. However, DIC boldly grasped the challenge and in 2001 succeeded in synthesizing a new green pigment incorporating zinc. Utilizing this for the color filter improved the brightness by more than 10% compared to conventional displays. As a result of further improvements, the saturation, which had been considered a weakness, exceeded that of copper containing pigments, and consequently by September 2015, it held more than 80% of the world market. As a result, the market reaction to the updated product, which was released last year, has been extremely favorable and the world-leading position of DIC in this field has been confirmed.
Engineering plastics with high expectations
DIC has world-class technology and production capabilities for many polymers including polyphenylene sulfide (PPS). PPS is a high performance engineering thermoplastic possessing high heat-resistance (melting point approx. 280℃), as well as excellent chemical resistance, fire retardancy and insulation.
Glass fiber reinforced PPSs have been in widespread use especially for applications requiring high durability, such as in the electrical systems of automobiles. However, for example, a gasket for lithium ion batteries, does not require such reinforcements, but nevertheless there is increasing demand for a high molecular weight PPS compound.
DIC is already able to offer a wide range of PPS products, but at the same time is structured to respond to customer's requirements. The technical division works on new challenges every day.
R&D goes with engineering and analysis
JEOL's Solid State NMR systems are playing a leading role in rising to that challenge. PPS is a hard, crystalline resin and is not soluble, but to look into and understand the crystalline structure is very important. "Behind the specific property of a material, there is sure to be a reason. To find that reason is the mission of analysis" said Mr. Akira Kasai, Manager of the Analysis Center (CRL), DIC. The combinations of molecular structures in polymers are unlimited and even a minor difference can dramatically affect their properties. The staff of the R&D Division may develop new products and the Analysis Center researcher then tests them in various ways to determine the relationship of properties and molecular structure. The combined work of "engineering" and "analysis" brings about the creation of innovative products.
Towards the new horizon of chemical materials
The market requirement on PPS is becoming more complicated daily, said Mr. Kasai. "We even had a customer's comment saying 'high durability is required but if it is too hard it will become fragile, so a degree of softness is needed at the same time'. In order to respond to such sophisticated requirements, the Analysis Center needed to improve their capability even further".
In the summer of 2014, DIC installed a new solid state NMR probe that has greatly improved sensitivity and resolution using a very narrow sample tube of 1mm outer diameter that achieves a sample spinning rate of more than 80 kHz. DIC is looking further ahead to developing new high performance polymers that can meet additional requirements.
The combination of solid state NMR and the 1mm HX probe is giving rise to hopes for more detailed analysis of pigments such as those used in liquid crystals.
"With the high sensitivity and high resolution available with the solid state probe, there is a possibility that the analysis of pigments which did not seem possible before, may advance. It is highly desirable to develop new colorant materials with outstanding performance."